Vegas Rocks 100
Red Hot Chili Peppers / Weezer / The Adolescents

Silver Bowl Sports Complex
Las Vegas, NV
July 2, 2005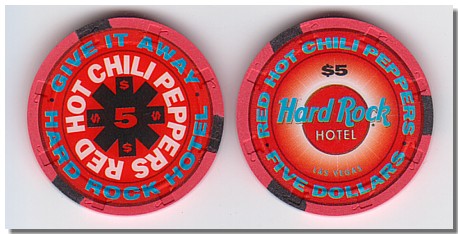 I may have missed Live 8, but I sure am grateful the Ticketmaster gods smiled on me and I scored tickets to this FREE concert. Yes, believe it or not, something was free on Ticketmaster. They did not even assess those inconvenience fees. Will someone please alert Eddie Vedder?
And the freebies didn't stop there - there was free parking, free water, free sunscreen, and free fireworks at the show. After all the money that Vegas has gleaned from its tourists over the years, it's only fair that they give something back. And the concert was thrown with all the classiness of the new Wynn hotel or Bellagio.
The concert organizers made a good decision when they moved the concert from the convention center parking lot to the Silver Bowl Sports Complex by UNLV's Sam Boyd stadium. Standing on cement in 100+ degree heat wouldn't have been fun. Instead, there was ample parking, a huge grassy field, and misting tents. I was impressed by the size of the stage, the giant video screens, and the first-class sound system. 50,000 tickets were given out, and it looked like most of those 50,000 showed up; yet, the crowd was organized in an orderly fashion. Considering the headliners used to perform wearing only tube socks on their units, the whole affair was rather civilized.
We arrived at 5pm - the time they said the gates would open. People were already inside when we arrived, so they must have opened a bit early. There was still plenty of room up front and I noticed they had fenced off the front section and were handing out wristbands to early birds. This was a great system - we got our wristbands, then left and sat in the shade for a couple of hours until the music started. The front pit was not overcrowded at all, so it was easy to come and go all night to get beverages and visit the portapotties. This was a big improvement compared to past shows I've attended like Coachella and Woodstock 99, where I stood for 7 or 8 hours straight to avoid losing my good view.
Those who arrived after 6:30pm were shut out of the pit and not very happy about it. I'll agree that it would have been nice if the website, with its copious concert prep instructions such as driving directions and a list of articles you wouldn't be allowed to bring in, could have mentioned that if you didn't get there early you wouldn't be able to push your way up front. However, I think most people realize that if 50,000 people are expected to a show and you don't arrive early you won't be seeing much.
The Adolescents - a surprise addition to the bill - kicked things off around 6:30pm with a 30-minute set. I had not heard of them but enjoyed their set and their middle-aged-punks-gone-to-seed look. A scan of their website revealed they were a seminal Orange County punk band with 7 albums who had broke up in 1989. They've now reunited for a small summer tour. They ended their set with a Social Distortion tune, paying tribute to their punk cohorts. Others in the crowd booed them, for reasons I couldn't understand. They had some catchy tunes and after all, this was FREE.
The power nerds known as Weezer took the stage at 7:30pm. Clad in too-tight 80s revival polo shirts and plaid shorts, they played with less animation than the large illuminated W logo that was their backdrop. The crowd was a mix of Weezer and Chili Pepper fans who greeted Weezer with enthusiasm but didn't really go nuts for them. I had always vaguely liked Weezer but purchased none of their albums. The only songs I could recall before they started were the ubiquitous "Beverly Hills" and that old chestnut "The Sweater Song." I actually saw the band back in the summer of 1995 at a small club called The Other World in St. Louis, when local station The Point was overplaying "The Sweater Song." I remember enjoying the show but nothing specific about it. I recognized many more hits than I expected during their hour-long set: "Buddy Holly", "We Are All on Drugs," "Holiday", and "Hash Pipe." The drug songs were very popular with the crowd as the scent of weed was thick in the air. The band also played "Perfect Situation" live for the first time ever. Weezer didn't have a lot of charisma, but their catchy melodies and Rivers Cuomo's tuneful, melancholy voice made for an entertaining show.
There was about an hour break before the Red Hot Chili Peppers played. The Peppers gave a playful performance and were quite rambunctious despite the stifling heat. Flea wore only a beanie with a propeller and custom-made tighty whities that had belt loops to which he could fasten his microphone pack. Anthony wore a capri-pants suit with a wife beater underneath. The 90-minute set was weighted toward new material including a song that Flea said would be on an upcoming album. As a nod to Live 8, he advised we bootleg the song, sell it on ebay and donate the money to Africa. Several other unidentified new songs sounded good, although it always takes me a few listens to get into a song. The band is placing more emphasis on their musicianship than in gimmickry like the fire helmets they wore when I saw them at Lollapalooza 92. We did get some classics like "By the Way," "Otherside", and "Californiacation." Anthony looked hot with long hair again, jiving across the stage, twirling in his own world. There were a couple of cover tunes - John Frusciante did vocals on a shortened version of "I Feel Love" and the band rocked out on 70's cheese classic "Brandy (You're a Fine Girl)." Both seemed to be a nod toward Vegas lounge culture. Before Brandy, there was some set list confusion - apparently Anthony had a different set list than Flea. I don't think a roadie was fired over it, because the guys just laughed it off. Flea later surprised the crowd with a trumpet solo. The guys came back for a powerhouse encore - "Give it Away" and "Under the Bridge."
The evening ended with about 15 minutes of spectacular fireworks, timed to Vegas-themed songs. And it only took about 20 minutes to get out of the parking lot. For once there was something free in Vegas that didn't have a catch, and even a low roller like me could get comped. Vegas does indeed rock.
Go here for more Ape Culture concert reviews
The official Vegas Rocks 100 website
Did you see the show? Love the Peppers and Weezer? Discuss.

Ape Culture and all associated pages are
ŠApe Culture 1998-2007 and evermore.