The Summer of Donna
Donna Summer
Gibson Non-Amphitheater
Los Angeles, California
August 26, 2005
Even so, I had not been hearing great reviews on Donna Summer through the years. One friend said he saw her and her voice was terrible, her performance disappointing. Another complained about her unfortunate outfit and lackluster showing on Divas Live. But hey, this is Donna Summer we're talking about. I still wanted to hear "Bad Girls" live; so, I did not heed these warnings of bad wardrobe and lackluster singing. At least she hadn't been getting arrested for driving under the influence like many of her flashback contemporaries.
To our fortunate surprise, Summer sang great and her show struck an amazing balance of old songs with some of her favorite covers. To Summer's credit, this was not a retro show. She gave her disco hits appropriate reverence but did not take herself too seriously, which is a fine line to walk...so fine in fact, it was almost unnoticeable. She then went even better and infused her 70s songs with some modern verve. The crowd was loud and enthusiastic which we didn't expect from the Adult Contemporary look of them.
Before Summer made her entrance, we were given a band overture of her bigger hits. At first, we worried this was her way of dispensing with her past hits too quickly. But the band spilled right into "She Works Hard for the Money" and Summer walked onstage looking happy and secure with her place in dance-music history. She works hard for the money, yes, she does. This was followed by her 1977 song "Once Upon a Time" which is very catchy and you remember it from somewhere but for some reason is always left off her bigger hits compilations. Disco staples "I Love You" and "MacArthur Park" followed. Summer took some time to explain the lyrics to "MacArthur Park," partially to tell the story about one Floridian senior citizen who approached Donna one day whining loudly "what's with that song about the cake!?" I bet Richard Harris was never bothered with such particulars. Apparently the cake is a metaphor. Leaving a cake out in the rain is like leaving a relationship unattended to. It's hard to rebuild. Get it? It's Betty Crocker's guide to love.
Summer then took a moment to quiet the room down and did an heartwarming rendition of "Smile," written by Charlie Chaplin. Donna then invited three fans to come on stage along with with her daughter, Brooklyn. Fabrizio from Italy and Giovanni and Andrea from South America came up to line up and sing the chorus of "On the Radio." Shy at first, all three men were clearly thrilled as peaches to be singing backup for Donna Summer. They quickly started rocking their hips. I think Giovanni was even swinging his satchel. On their surprised faces you could read: "What a vacation! Ain't America great?"
Donna spoke tongue-in-cheek criticisms of breast implants before launching into her version of "(You Make Me Feel Like a) Natural Woman" which she Summer-ized with a disco beat at the end, again bridging the span between having fun with the material without robbing it of respect. It was a deft tightrope walk.
Summer then invited husband Bruce Sudano to the stage to sing a song from his new album Rainy Day Soul, "Le Imagine Café." It was okay. It was nice to see Summer come back after a costume change (2 of 4) singing a medley of Gershwin songs. A much abbreviated but animated version of "Enough is Enough" followed. Summer then surprised us with a wonderfully unexpected cover of "Nights in White Satin" prefaced by her story of growing up in Germany and loving the song. She sang some new material "Cold Love" and then finished the show with three big hits, "Hot Stuff," "Bad Girls," and the encore "Last Dance" for which the small Gibson-rented orchestra played the show-stopping, climactic ending at least three times. A riled up crowd brought Summer out once again to do a second encore, an allegedly rare performance of a funky island-flavored song called "State of Independence."
Summer's voice never faltered during the whole show and she wasn't cutting corners with her notes, even on the last high-note of "Last Dance" which I had seen her do on live TV performances in the 90s. She sounded phenomenal and in top shape. She was even wearing better, more flattering dresses than she had on Divas Live.
Donna Summer's disco songs have stood the test of time because they have risen above being gimmicky or trendy. At no point did we feel we were at a 70s retro show, like I have felt while watching shows of The Village People or K.C. and The Sunshine Band, two other disco era relics who escaped the decade with more than one hit.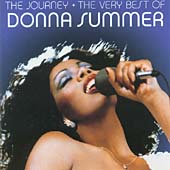 Read other Ape Culture concert reviews
Seen Donna Summer live? Add your thoughts here.
Ape Culture and all associated pages are
ŠApe Culture 1998-2007 and evermore.