F8 with Leif Garrett
Court Tavern
New Brunswick, NJ
March 8, 2002
If a former teen idol rocks out in a sparsely populated New Jersey basement bar, does he make a sound?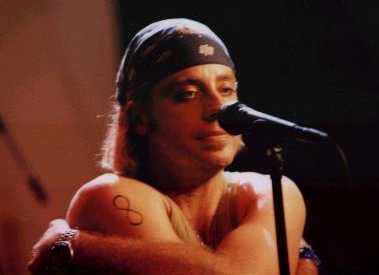 Yes, folks, Leif Garrett is making music again. Of course, anyone with cable TV doesn't need to ask, "Leif, where are you now?" His episode of Behind the Music ranks right up there with Milli Vanilli's and Rick James' in terms of riches to rags pathos. The episode taught us that, like Samson and Bret Michaels, Leif can probably blame his troubles on hair loss. Leif's flowing golden locks made him a teen idol in the 70s, and he could act a little and sing well enough to score hits like "I Was Made for Dancing." As he began to lose his hair and his fame, Leif sank into a cycle of bad relationships, money problems, and drug and alcohol addiction. He hit rock bottom at age 17 when he crashed his car while driving drunk, paralyzing his friend Roland Winkler. Leif's tearful reunion with Roland made for riveting TV, ensuring that VH1 would repeat the episode almost as much as they repeat that TV movie about the Jacksons.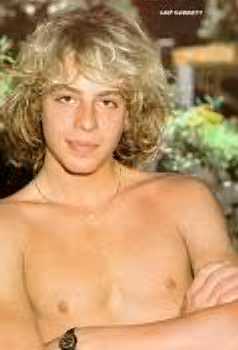 As painful as the episode must have been for Leif, it served its purpose--generating mild interest in his attempts to revive his music career. And so the former teen idol who toured arenas in the 70s has hit the road again, this time in a rented RV with a U-Haul trailer, for a club tour with his new band, F8. F8 is pronounced "Fate" and that's about as deep as this vanity plate of a band gets.
I ventured into the wilds of New Jersey to a dive bar called the Court Tavern to catch this gig. There were several other bands on the bill and F8 wouldn't be hitting the stage until midnight. I arrived around 11:00 PM, paid my $10 cover, and ventured into the bar's low-ceilinged, wood-paneled basement. I surveyed the crowd. Clustered near the stage were some of Leif's hard core fans, now pushing 40, many still with big 80's New Jersey hair. They were sipping chardonnay in small packs and some had dragged along their husbands. Then there were the regulars, Jersey rocker dudes and dudettes, fans of the local opening act Mars Needs Women. And there were jaded hipsters attending out of morbid curiosity. I guess I fit into that final category, although I was there to root for Leif. I think he's still cute, sort of a loveable loser, endearingly self-effacing when hosting 8 Track Flashback or appearing on Celebrity Weakest Link with Kato Kaelin and Todd Bridges.
I caught Mars Needs Women's tight set of catchy rock songs. Their singer announced, "30 minutes to LEAF" and a fan yelled out to correct him, "It's LAYF!!" I recalled other pronunciation controversies of the 70s over names like Han Solo and Meeno Peluce. A cryptic sign that hung behind the small stage declared "cruel but fair," and I wondered if that would be a fitting epitaph for this gig. The basement filled to capacity and it began to get very hot. I ordered a long neck Budweiser to cool off.
As a lone roadie set up F8's equipment, Leif and his bandmates slunk down the stairs. Drummer Chuck Billings was all smiles, shaking hands with folks who approached him. He once graced the back pages of Tiger Beat himself, as the drummer in a Gene Simmons-produced boy band called Virgin. Leif looked a little tired but he signed autographs and mingled with fans.
F8 took the stage just after midnight. Scruffy Leif wore jeans, white T-shirt, jacket, winter scarf, and a bandana on his head. He looked like a rocker who had fallen on hard times. His band mates looked more like glam rock veterans. Leif thanked everyone for coming and said, "New Jersey's always ready to rock." After their first song, a heckler called out, "You SUCK!" Leif winced almost imperceptibly, like a pound puppy who's used to being kicked.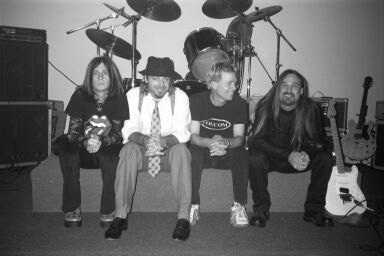 Leif has an easygoing stage presence and his band proved to be capable if not particularly inventive, covering songs by Buffalo Springfield and Led Zeppelin. Much like David Cassidy, the teen Leif was a rocker-at-heart forced into bubblegum music. Now Cassidy is still singing "I Think I Love You" in casino showrooms, while Leif can sing all the rock songs he wants in dive bars. I'm not sure who of those two wins.
At one point, Leif explained that he was going to sing a song that mentioned Jesus: "Most people think the cross represents crucifixion. I think it represents man outstretched." To illustrate his point, he stretched out his arms during the song and hung his head in a melodramatic pose. This was the only pretentious moment of the evening. He went on to sing original songs about broken relationships with girlfriends and parents. Leif declared, "I wrote this song about my sperm donor dad. Whatever you want to call him, he certainly wasn't a father." After the painfully honest song, Leif said, "I obviously have some serious issues." It's true, he hasn't beaten his demons--within the past 6 months he grabbed headlines for getting caught with drugs and for running up $75,000 in debt on his credit cards.
Midway through the set, F8's bass player, Darrell "D" Arnold, called out for the singer of Mars Need Women to join them on stage, but he was nowhere to be found. By this point about half the crowd had left, apparently just curious to see Leif and not particularly moved by the music. Of the singer, Darrell said, "We have a mutual friend in LA." Another heckler called out, "Who? Ron Jeremy?" Leif laughed, "No, well, we know Ron too. And he's got nothing on any of us, let me tell ya." As a testament to Leif's boast, F8's two groupies cheered. They were young and appeared to be traveling around with the band, and Leif acknowledged them as "our bandaids."
Leif paid special attention to one of his longtime fans who had dressed for the occasion in tight patchwork bell bottom jeans and a red, white and blue sequined bikini top. Her husband spoke up for her as she was rendered mute under her teen idol's spotlight, "She's been a fan of yours for a long time." Leif launched into a reverie about bell bottom pants he had owned and the bell bottom aesthetic: "tight over cock and balls, with elephant bells." Ah, misty water colored memories.
Toward the end of the hour-long set, Leif introduced the band, paying special attention to Chuck Billings and revealing that Chuck's old band Virgin had opened for "my arch-nemesis, Shaun Cassidy." As the band closed the show with a Led Zeppelin cover, I felt glad I'd made the trip to Jersey. I won't be buying the CD, but I do think Leif has talent, charisma, and a good voice. However depressed and downtrodden he might be, Leif still has a sense of humor about himself and a firm grasp on reality, as he acknowledges his position as a platform-shoed footnote in pop history and seizes the VH1-given opportunity to rock out. Cruel but fair, man.
Here's a Leif Garrett fan site
Read Ape Culture's review of a David Cassidy concert
Check out Ape Culture's haiku tributes to teen idol crushes
Read more of Ape Culture's concert reviews.
Post a comment about Leif Garrett or Teen Idols.
Ape Culture and all associated pages are
ŠApe Culture 1998-2007 and evermore.



Click here to learn about
the Ape editors' book
Check out the Ape Blog for the latest Ape Culture News and Reviews