Ben Folds Five
Fleming and John
Irving Plaza
New York, NY
April 27, 1999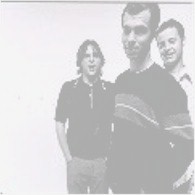 I wasn't sure I wanted to go back to see Ben Folds Five, because the last time I saw the band (at The Supper Club in late 1997), I felt like Jerry Falwell at a Marilyn Manson concert. Profoundly disturbed. It wasn't the band's fault, really. It was just the experience of being one of a handful of females amid a sea of frat boy types, all of them singing along a tad too enthusiastically to "Song for the Dumped:" "Gimme my money back, gimme my money back, YOU BITCH!"
Yet, despite the misogyny in the air, the band's virtuoso live performance left me wowed. Mostly, I ignored the homogenous crowd and kept my eyes on Ben Folds, the GenX-Elton, a drunken lover alternately abusing and caressing his piano. Drummer Darren Jessee and Bassist Robert Sledge are adept and endearing performers, and they didn't let the pianonerd show them up. These guys put so much energy into the show. The studio recordings don't do them justice but their live album Naked Baby Photos comes close to capturing the band's improvisational spirit and their rabid fanbase.
So, I bought tickets to see them again, and when we got there at 8:00 PM, the line to get in stretched around the block. The two shows were completely sold out. Once inside, I picked up a pre-autographed copy of the band's new CD, The Unauthorized Autobiography of Reinhold Messner. These autographed copies went fast; it's a smart marketing ploy. We worked our way through the crowd, which was much more mixed this time--still mostly white, but all age groups were represented and there were a lot more women.
I hadn't heard of the opening act, Fleming and John, but the crowd gave them a warm reception. Judging from their stage patter and southern accents, I assumed they must be cronies of Folds, and a check of the album credits confirmed it. The husband and wife combo, backed by an also-married bass player and keyboardist, were fun and totally engrossing. Their sound is hard to describe--think Combustible Edison meets The B-52s meets Air. Fleming's unique voice,though shrill at times or maybe it was my proximity to a speaker was well-suited to the quirky lyrics about love and marriage. John provided accompaniment on a variety of instruments, from guitar to flugelhorn. They played material from their first album and their recent release,The Way We Are. These albums are now on my to-buy list.
After kicking things off with "Don't Change your Plans" off the new album, Ben Folds informed us that tonight was an especially happy occasion for his band because the concert date coincided with the album's official release--it's "birthday." He said he would play most of the new material, along with the standards. The new album is something of a concept album and there's something very 70s, almost art rock about it. With a couple of bouncy exceptions like "Narcolepsy" and the first single "Army", the songs are contemplative and quiet. Folds would set up the songs with lines like: "When we last saw Reinhold Messner..." to preserve the narrative thread of the album, since he broke the album up, interspersing older songs.
The audience listened attentively to the new material but they were very quiet. They seemed a bit stunned and disoriented. Then sing-along pandemonium would break out as the crowd recognized the familiar strains of classics like "Philosophy" and "One Angry Dwarf and 200 Solemn Faces." In concert, the band varies the interpretations of their older material to keep it fresh, without altering it to the point of irritating a hardcore fan. And sometimes they just change their routines--this was the first time I saw bassist Robert Sledge snake his way atop the piano to deliver his one line intro to "Underground" and it was a hilarious moment, recalling Michelle Pfeiffer in The Fabulous Baker Boys. A well-choreographed light show has been added for this tour and it helped to set the mood, especially for the more solemn new material.
When the band played my favorite song, a ballad off their first album called "Alice Childress," I recognized it as a harbinger of the new direction they've taken. After giving the new album a few listens, I'm impressed by the range and I think they're growing as musicians. I don't see this album becoming a frathouse favorite to rival "Louie, Louie," but I think it will win Ben Folds Five more respect.
After playing for a solid hour and a half, the band came back for an encore. They played the amusing and honest "Your Redneck Past" off the new album and concluded with the inevitable "Song for the Dumped." I didn't get upset this time. In the co-ed setting, it seemed more like the universal relationship angst song that I believe Folds intended it to be, instead of a testosterone-juiced anthem.
If you haven't seen Ben Folds Five, if you weren't impressed by their maudlin hit "Brick," I advise you to check them out on this tour. I predict your reaction will not be unlike the dude in the Maxell ad, sitting in his lazy-boy, blown away by the music as if he were in a wind tunnel. You know the poster I'm talking about. It's in every frat house. It's supposed to subliminally represent a blow job. As Butthead would say: "Cool."
Read more of Ape Culture's concert reviews
Post a comment about Ben Folds Five
Ape Culture and all associated pages are
ŠApe Culture 1998-2007 and evermore.