The B-52s 25th Anniversary Concert
with Chicks on Speed
Irving Plaza
New York, NY
February 4, 2002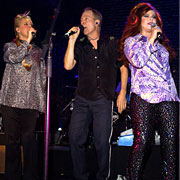 When I arrived at Irving Plaza, I immediately discovered that the venue had been transformed into Planet Claire. While waiting in line to check my coat, I saw several women with bouffant wigs, a drag queen, and men in tropical garb. Everyone was ready to dance. We were all psyched to see one of the world's best party bands.
Chicks on Speed opened the show with an interesting but rather empty set. The Chicks are 3 women who play the radio instead of instruments and who sing a little. I would classify their act as performance art more than music. I think they spent more time on the often arresting video images that played on a screen behind them then they did on songwriting and practicing. With their 80s look, homemade outfits and makeup that appeared neon under black lights, they reminded me of shows my friends and I put on in my basement for my parents like the time we lip-synched to Duran Duran while playing tennis rackets.
The crowd was pumped up and ready when the B-52s stormed the stage. I was pleased to see that Kate Pierson and Cindy Wilson still had big hair and flamboyant outfits. Fred Schneider took center stage, beaming and strutting, and guitarist Keith Strickland looked amused and happy to be there. They kicked off their set with "Dance This Mess Around" and the sold-out crowd did as Fred commanded. The whole shack shimmied. Next us was "Good Stuff," the title track from the band's disappointing follow-up album to the smash hit "Cosmic Thing."
"It's our 25th anniversary. That must mean we're...30," Fred quipped. While they may be a few years past that mark, the Bs played with lots of energy and still seemed to enjoy singing the old songs. Many songs were made fresh with new arrangements. After revisiting their first album with "Lava," the band sang "Roam," a tune that really shows off Kate's and Cindy's enchanting harmonies. This is really a band of distinctive voices, and I have to admit that Fred, the Paul Lynde of pop music, is my favorite. I loved his harder-edged 1996 solo album (produced by Steve Albini) and saw him at two small club shows on that tour, but this was my first time seeing the whole band.
Next they played "Hero Worship" and "Quiche Lorraine." The audience took their dancing to another level for "Private Idaho." The crowd was a real cross section of fans from throughout the band's history, although it appeared that most were in their late-20s to mid-30s and had discovered the band in the Cosmic Thing era. That's when I started listening to the B-52s and I have many pleasant high school and college memories of dancing to "Love Shack" and "Channel Z" at school dances and singing along in the car, working on my Fred impression. The band seemed to take everyone in the room back to simpler times, an era of pure fun.
The B-52s' setlist did not disappoint any of the fans, as the band went on to play "Summer of Love," "Deadbeat Club," "Hallucinating Pluto," and "Strobe Light." Surprisingly, "Love Shack" came next. I expected it to be saved for an encore. Everyone bopped, sang along and shouted the song's enigmatic concluding line, "Tin roof....rusted!" They concluded their set with "Whammy Kiss."
For the first encore, the band brought out Tina Weymouth and Chris Frantz of Talking Heads fame. Tina played bass and Chris drummed along to the eerie "Planet Claire," turning the song into an extended jam. The crowd went nuts and everyone was shakin' their cosmic things as the Bs started singing "Rock Lobster." We crouched down to the ground as Fred commanded, "Down...down...down..." Then, as if things weren't already weird Yoko Ono appeared on stage. Her wacky vocal stylings in the 70s influenced the band, and they seemed thrilled to have her on stage. Yoko warbled and screeched through the song's chaotic finale. It was definitely an "only in New York" moment for me, and New York could use more joyous, purely fun shows like this one. Love, baby, that's where it's at.
Read more of Ape Culture's concert reviews
Seen the B-52s? Add your reviews here.
Ape Culture and all associated pages are
ŠApe Culture 1998-2007 and evermore.