It Came from a Book Fair
A Review of Hot Line: The Letters
I Get...And Write! By Burt Reynolds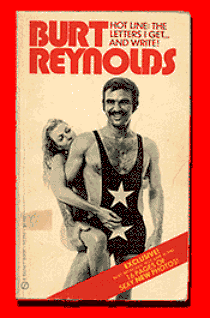 I wasn't that enthused to go to the St. Louis Book Fair this year. The last few years had been disappointing. I don't have any need for old copies of Arizona Highways magazine, Coma, Passages, or The Bridges of Madison County. But I'm glad I went because I really scored. Not only did I find some 70s tabloids for 50 cents each (sample headline: Telly Savalas says "I'm the Greatest Swinger of Them All!") and a country star cookbook featuring recipes by Barbara Mandrell and Tammy Wynette, but I also scored this novelty book by Burt Reynolds. The cover had been nibbled by a mouse, proving that even rodents were hungry for Burt's bod in 1972, the publication date. Considering that I was born in 1972, I kind of missed the whole Burt Reynolds sex symbol period. My mom was a fan. She stood by her man through his lean years, dragging me to Cannonball Run 1 and 2 and mandating that we watch Evening Shade. She even bought Loni Anderson's autobiography.
When I saw Deliverance I could see Burt's appeal for the first time. He was sans moustache and wearing a sleeveless wetsuit, unzipped to show off that hairy chest. And he was cocky, displaying the charming arrogance that would serve him well throughout the 70s and early 80s. Plus, he didn't once emit that annoying high-pitched laugh. Too bad he never produced another Deliverance.
"Burt Reynolds is America's newest Sex Symbol, star of movies, TV, stage, and Cosmo centerfolds. Passion flower to eager femmes from 8 to 80, he is a virile, witty, gracious, warm, lovable, hotter'n firecrackers hunk of male who likes nothing better than reclining his fabulous fanny on bearskin rugs, rapping with his fans and their endless stream of letters," says the book's ad copy. And the back photo features that "fabulous fanny." I have a feeling the butt hair was airbrushed off. Note that Sex Symbol is capitalized, as if it were at title on Burt's business card. This book should be used in feminist courses, as it is surely one of the first to legitimize female lust for a dumb he-man.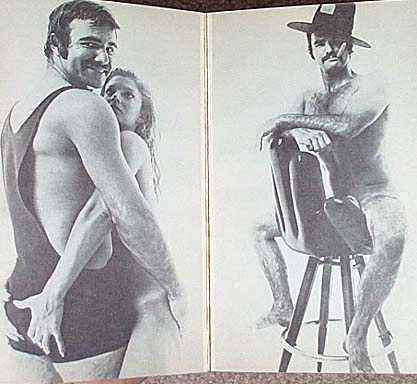 Hot Line must have taken about 2 days to complete. The fan letters are reproduced with pseudonyms and Burt's pithy, double-entendre-laden responses. I'm sure it was rushed to print to cash in on the Burt-mania unleashed by his nude centerfold, in which his hand (or arm, as Burt maintains) covers his naughty bits. There are 16 pages of photos taken exclusively for the book in which Burt is shown nearly naked and in orgy scenes. What would Dinah Shore have said? She must have had a bad boy complex.
The letters are bizarre, forthright, and very direct. What do I mean by bizarre? One fan requests a lock of Burt's pubic hair. Here are some quotes:
Honest to God, Burt, the thing in the world I'd most like to do is fuck your brains out. How about it? Horny in Buffalo

I have your pictures all over my bedroom. At night I go to bed with the lights on just gazing at them. Then I get so excited I do something to myself that makes me so disgusted afterwards. Hot and Bothered in Columbus

Enclosed is a picture of our daughter, 34 years of age, and her doctor says she's one in 5000. He says she's still a "good girl"-if you get what I mean. Proud Mom

So you hear that mating meow? Guess where it's coming from. It's coming from my little pussy. It keeps crying for you all the time. "Burt, I need you" it cries day and night. It's such a darling little thing, too, so furry and sweet. Prissy L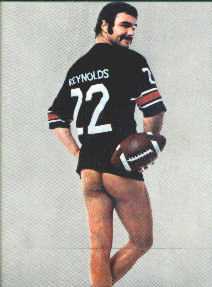 Burt seems pretty nonchalant about it all. When a fan writes that her friend wants to trade 3 autographed pictures for the fan's lone Burt photo, Burt replies, "I'm still 20 to 1 on the David Cassidy market. My 20 to his 1." When a gay male fan expresses his admiration for Burt, Burt writes, "A fan is a fan is a friend no matter what current he/she/it operates on, AC or DC. Thanks for being one of mine." Mostly he just tells fans "you're more woman than I can handle."
What did I learn from this book? I learned that there was a time when men didn't wax their backs, when hairy men ruled the earth. And I learned that as devoted to his fans as Burt was, he drew the line at mailing locks of his pubic hair.

The Official Burt Reynolds Site

The Church of Burt Reynolds
Did Burt atone for this book via Boogie Nights? Discuss.
Ape Culture and all associated pages are
ŠApe Culture 1998-2007 and evermore.



Click here to learn about
the Ape editors' book
Check out the Ape Blog for the latest Ape Culture News and Reviews