Beauty of the Beasts: My Kenya Safari Trip
Reflections on a Two-Week Safari in Kenya

By Julie Wiskirchen
I had an amazing two-week adventure to Kenya with African Springs Safaris!
We flew 10 hours from LA to Amsterdam, had a 3-hour layover, and then flew 8 hours to Nairobi, arriving around 9:00pm. We had to take a bus from the plane to the arrivals area and go through passport control where we were fingerprinted for some reason. Luckily, our bags arrived and we were met by a driver who took us to the Sarova Stanley Hotel, a historic hotel that opened in 1902. Famous guests include Queen Elizabeth II and Ernest Hemingway.
Nairobi is a bustling, crowded city. The traffic is insane, much worse than LA, yet nobody honks. They seem to have total patience, or they just accept it as their lot in life. There aren't that many major roads, so they can be congested any time of day or night. There are huge roundabouts with no traffic lights or traffic police to direct people. And there's a lot of smog. We traveled with our guide, Kamunge, and spent our time at tourist spots.
We visited the David Sheldrick Wildlife Trust, an orphanage for elephants (and occasionally other babies such as giraffes, rhinos, ostriches). Each morning, the elephant keepers do a great presentation and bring out all the baby elephants (we saw 29 out of 38 - some of them are not yet ready to mingle) and feed them milk and give them a chance to play with soccer balls and in a watering hole. The keeper talked about the work of the orphanage in saving the babies who are mostly orphaned due to their mothers being killed by poachers, and he introduced each elephant and told his or her story. We even got to touch an elephant and found out the elephant skin is pretty scratchy. You can foster an elephant for only $50 per year and receive regular email updates from your elephant's keeper. Of course I signed up for this when I got home and adopted Simotua who had a spear wound on his face and snare wound on his leg.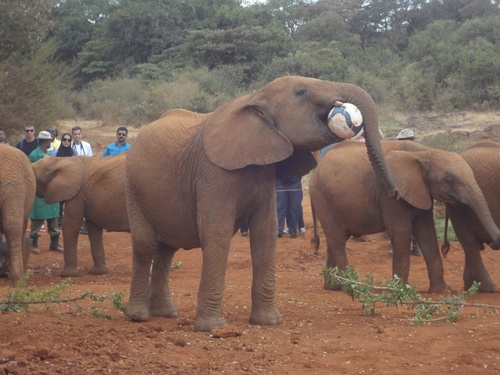 We also visited the Giraffe Centre. This park also houses Giraffe Manor, a high end B&B where giraffes will come up to your window. We had a blast feeding the giraffes and laughing at their names: Betsy and Stacey. With names like that, one would expect them to be waitresses at the Waffle House. Giraffes will even eat right out of your mouth if you don't mind french kissing them - we passed on that. Their tongues would make Gene Simmons envious. We also checked out the tortoises and walked on a nature trail, where we saw the first of many hyraxes we'd see on this trip. The hyrax is the closest relative to the elephant but you'd never know it by looking at him, as he's a small rodent about the size of a guinea pig.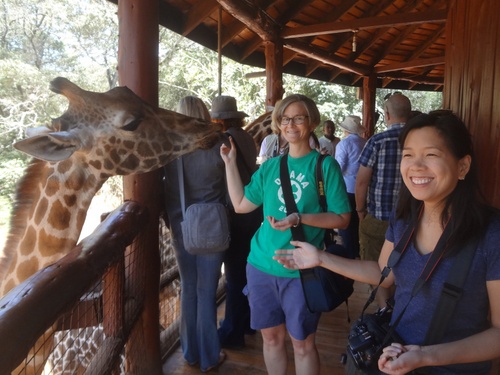 We did a lot of shopping. We visited the Galleria (pronounced Guh-lare-ee-a), a shopping mall, where we spent most of our time in the Nakumatt, similar to a Target or Wal-Mart. We passed through metal detectors and a bag check to enter the mall. There were also metal detectors at our hotel. The threat of terrorism hangs in the air due to past attacks. We never felt unsafe, but we didn't wander the city on our own either. At the mall, we bought snacks for our trip and coffee and tea to take home. We also checked out a bookstore and a whiskey store. Prices for whiskey were higher than in the US due to import costs.
We visited Kazuri Beads and toured the factory. It's not so much a factory as a series of rooms where workers sit at tables making the beads and necklaces. The place was founded in 1975 to give single mothers an opportunity to earn a living. We would see Kazuri Beads in every gift shop we visited. We went to Matbronze - a gallery of bronze reproductions of animals, which has some really neat pieces. And we went to the Utamaduni Craft Centre, a large house with many rooms of crafts and souvenirs.
We had dinner at the hotel both nights in Nairobi, as we felt a bit timid about venturing out, and we were tired from jet lag. We had steak at the hotel which was tough and not very good. After trying beef twice during the trip, I gave up. Cows are most valuable when they are living, so they tend to only kill the older ones for meat and the meat is tough. Kenyans use toothpicks after every meal. Thus began our love affair with pasta! Stanley Hotel had excellent pasta and we also enjoyed the bar which had a piano man and a great selection of scotches, even Laphroaig!
On our third day, we journeyed from Nairobi to Amboseli National Park. We stopped for lunch along the way. Once you get beyond the suburbs of Nairobi, there are many small little rest stop type towns where people will get in the road and try to sell water and snacks to the cars as they pass. Driving is tough as the road from Nairobi to Mombasa is mostly a two-lane road with a lot of large trucks. Our guide Kamunge was great at passing these trucks, sometimes 3 or 4 trucks at a time. Cars going the opposite way slow down to allow this. The smog generated by these trucks can be overpowering at times. I was traveling with 2 friends and Kamunge in a land cruiser that could fit up to 8 people. I recommend this way of traveling versus going in a bigger group. We could stop for as long as we wanted to watch certain animals without having to cater to the interests of others. And the land cruiser could handle all the bumpy rutted roads in the park.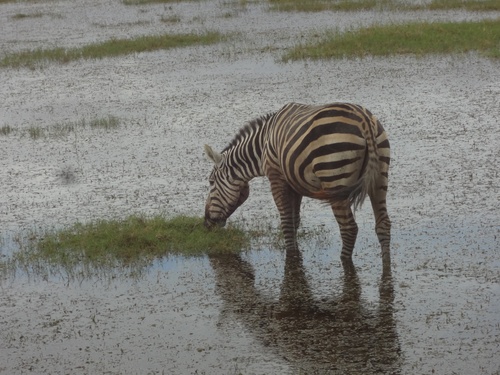 I fell in love with Amboseli! While most of the park was dry as it was not yet the rainy season, there were watering holes and some marsh-type spots where many animals gathered. We would see an abundance of elephants, zebras, hippos, and interesting birds at these spots. Amboseli is known for elephants, and it did not disappoint. I will never forget watching a parade of almost 20 elephants cross the road just in front of our vehicle. The babies were so cute. Moments like that rendered me speechless. They advise you to be quiet when on safari so as not to disturb the animals, and we generally had no problem being quiet because we were awestruck. The beauty can overpower you.
There's an observation hill that you can climb to get a nice overview of the park. On our first attempt, a young male elephant blocked our path up the hill, but on the second try, the coast was clear and we climbed the hill. You can see the peak of Mt. Kilimanjaro from this park, although it was mostly obscured by clouds while we visited. We saw a lion couple mating - the deed was done in under 30 seconds! However, they will do it up to 40 times per day when mating. We also saw a cheetah from a distance. We also saw many giraffes, buffalo, wildebeest, grant's gazelles, impalas, and thompson gazelles.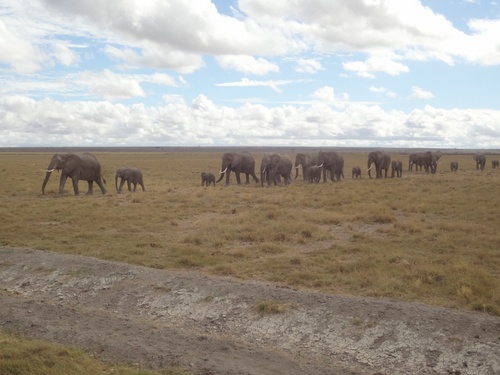 We stayed at the Amboseli Serena Safari Lodge for 2 nights and had a very nice room with 2 bedrooms. Vervet monkeys hang out at the hotel. One has to be vigilant about locking the door and windows or they can sneak into the room and steal food. The hotel also had a watering hole that attracted a variety of wildlife. It is just magical to sit for a meal and have that view. I also found myself getting very into bird watching as the marsh-type landscape attracted a lot of interesting birds. Kamunge was a bird expert and would consult a birding book so we could identify all the birds.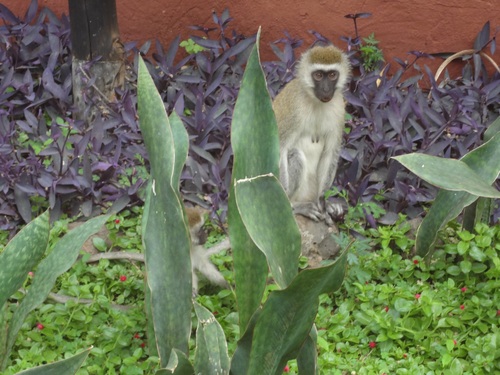 After 2.5 days in Amboseli, we drove to Tsavo West National Park. We had to be accompanied by another vehicle on this journey as there is some danger that bandits could overtake our vehicle. That was a bit nerve-wracking, but nothing happened. On the way to the lodge, we stopped at the Shetani Lava Flow and chatted with a nice elderly British couple who were on their fifth trip to Kenya. Little did I know these would be just about the only people we'd chat with for the rest of the trip. Many of the lodges were nearly empty. Sometimes we'd only see about 10-20 other guests and most didn't speak English. We were traveling in October, at the end of the tourist season.
We checked into the Serena Kilaguni Safari Lodge and were really impressed by the large watering hole. This is a beautiful lodge that attracts many honeymooners. We saw a big group of zebras at the watering hole while we ate dinner. This lodge also had an interesting wake up call feature. You could fill out a form indicating if you wanted to get a wake up call if certain animals showed up at the watering hole in the middle of the night. We opted to be woken up for lions, leopards, or cheetahs, but none showed up during our one-night stay.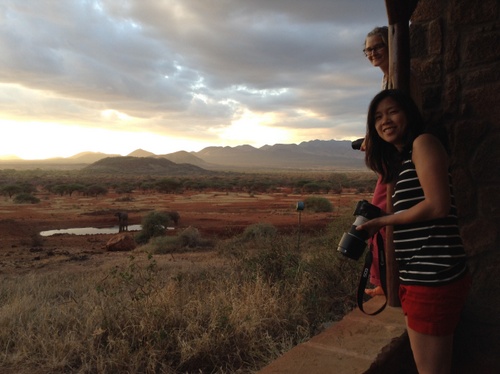 On a morning game drive in Tsavo West, we had an amazing lion sighting - 2 females and 1 male, plus another one behind bushes that we couldn't really see. They had finished eating a buffalo and we could see and smell the carcass. The male appeared to want to mate but the female did not express interest and seemed to be (or pretended to be) asleep, so he retreated behind the bush to the other lion (probably female). We visited a crater and went to Mizai Springs. There's a tube you can descend that has windows underwater where you can sometimes see hippos and crocodiles, but we only saw fish. From the description, I expected this to be like the water park tube in Jaws 3D where you walk across a body of water, but it was much smaller. We did see crocodiles and hippos at other parts of the Mizai Springs and had a really cool sighting of a large lizard eating a fish. The ranger said he had not seen that himself in the 5 years he had worked there.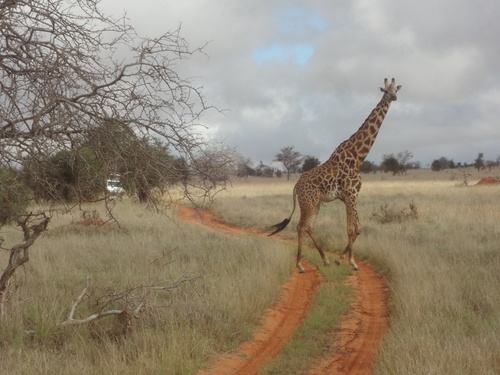 After lunch on our second day in Tsavo West, we departed for Tsavo East National Park. We drove on the congested Mombasa-Nairobi two-lane highway and saw the construction of a railroad that will connect those 2 cities and offer a much faster transit option. Upon entering Tsavo East, we visited Muranda Rock, which is a plateau that is 1.5km long and reminds one a bit of Ayers Rock. We saw rock hyrax there. We got very close to a herd of elephants and watched them eat. We were concerned about one who appeared to have a deformed leg and a bulbous stomach, but she still managed to keep up with the herd.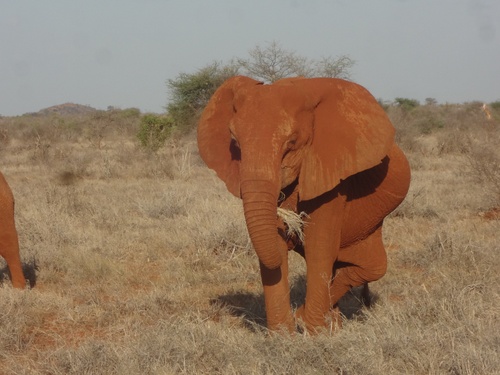 In Tsavo East, we spent 2 nights at Voi Safari Lodge, which was the most basic hotel of our trip. Everything seemed a bit stuck in the 70s in terms of lodge and room decor, and there were very few other guests. It wasn't hard to picture a horror movie unfolding in this remote location where there were more hotel staff than guests. Our room was very cramped and the spotty wifi was only available in the lobby. One bright spot of this hotel was its pool which overlooked the watering hole, but we never saw any action at the watering hole. Food was decent. I enjoyed meeting the bartender Pius who made me a traditional cocktail called Dawa that usually involves vodka, lemon and honey, but he substituted whiskey at my request. Hotel staff seemed to work very long hours. We would see the same waiters at all our meals, and Pius seemed to be on duty from breakfast until after dinner, although there were never more than one or two customers at a given time.
The scenery in the Tsavo parks is characterized by scrubby bushes and trees as opposed to the open savannahs of Amboseli. I found it harder to spot animals. It was also very dry so there weren't as many animals to see. These parks are known for their geological features. We took a long drive to Lugard Falls and checked out the neat rock formation there. We saw 2 herds of elephants who guarded their babies from us. We also saw impala, waterbuck, and lions. At one point, we saw 6 lions lounging around together.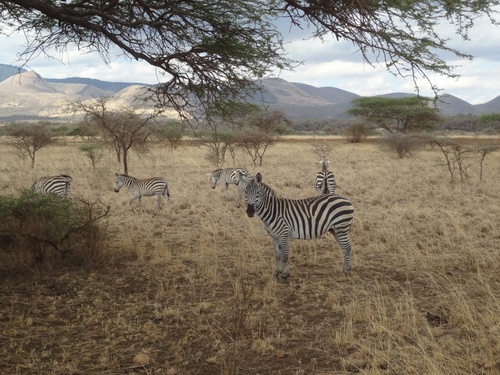 Our next stop was the Taita Hills Reserve. We stayed at the Sarova Salt Lick Lodge, my favorite hotel of the trip. The rooms are in round buildings elevated from the ground on poles so you really feel you are in the middle of it all. There's a big watering hole. Unfortunately, it rained both days we visited, so we didn't see too much action at the watering hole. We did see a huge herd of buffalo there right after we arrived. Despite the rain, we still had some good sightings on our game drives, including the highlight of 5 lion cubs lounging and playing. I kept looking around for their mother. I felt sure she would not be out of sight range of the cubs, but we never saw her. It was so fun to watch them and hard to resist the urge to get out and cuddle with them.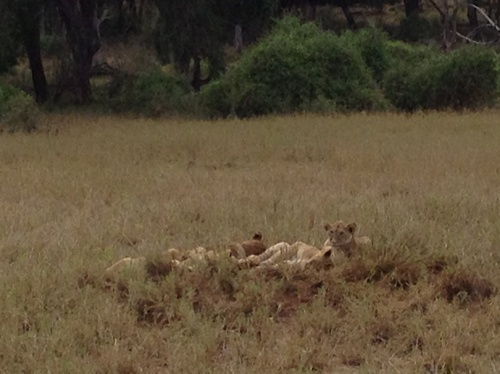 We did a night game drive. A ranger came along and used a flashlight to look for eyes in the darkness. We saw a bush baby, the lion cubs, an owl, bat eared fox, civet, and a white tailed mongoose. Although we stayed up past our usual 10:00pm bedtime, it was worth it to see some of these nocturnal animals we wouldn't have otherwise seen.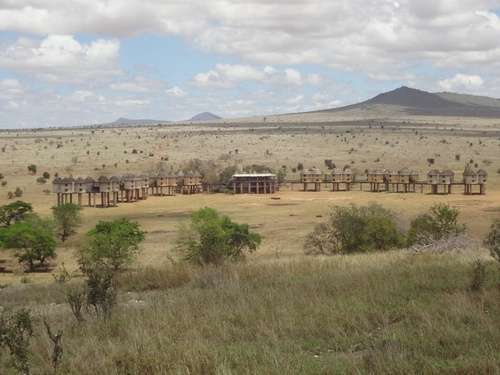 After 2 nights at the Salt Lick Lodge (and excellent food!), it was time to head back to Nairobi. Our next destination would be the Maasai Mara National Reserve but that is too long of a journey for one day - hence the Nairobi stopover. We were all kind of dreading this day as it would be 7 hours in the car. We were again on the 2-lane highway with tons of trucks and often had to slow to a crawl to get through the many rest stop towns and avoid the vendors in the road. This was definitely not a fun day but we were glad to spend another comfortable night at the Stanley Hotel and enjoy dinner on the pool deck and after-dinner scotch in the hotel's Exchange Bar.
The next morning we headed out for our final destination of the trip - the famed Maasai Mara National Reserve. We drove about 5 hours and stopped along the way for a view of the Great Rift Valley and for a curio shop. We checked in at the Sarova Mara Game Camp and were stoked to find our tour company had arranged for an upgrade to a larger tent. This was our glamping portion of the trip and our room was a 30x30 canvas tent that had a cabin built over it. It had a regular shower and bathroom attached to the back of the room and a wood floor. We had a king size bed and a twin bed. We were able to really luxuriate for our final 3 nights of the safari!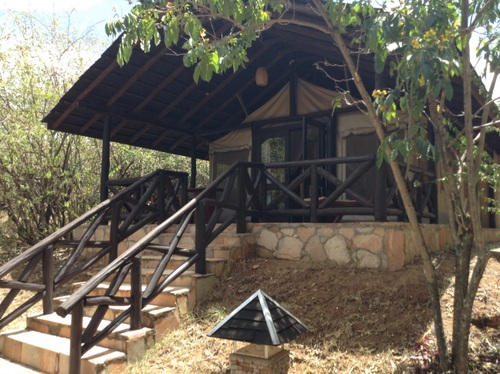 On our afternoon game drive, we saw 2 black rhinos off in the distance. Kamunge told us this was a rare sighting, and we were excited. We also saw zebra, giraffes, buffalo, and impalas. We had a nice dinner at the hotel. Food was quite tasty and we especially enjoyed the soup station where they would "toss the soup" for you.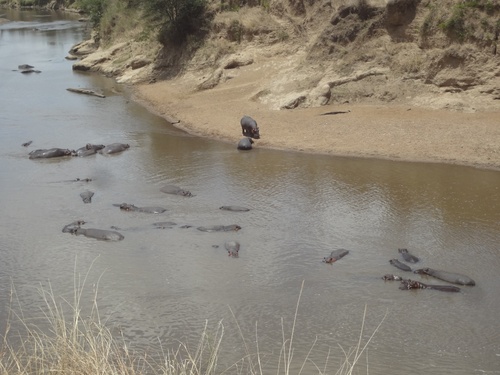 The next day we went for an all-day game drive, leaving the hotel at 7:30am and not returning until 6pm. I have to admit this was a bit trying at this point in the trip as we had been spending so much time in the car, and it can be quite bumpy and jarring at times on the rutted roads. But the Maasai Mara is such a large park that we needed to do this to really get a sense of it. We saw an adorable baby leopard in a tree. We were thrilled that we saw the leopard and thus completed the Big Five (buffalo, leopard, lion, elephant, and rhino). We drove to the river where we saw crocodiles and hippos. We were very close to the Tanzania border. This is the park where the wildebeest have their great migration from the Serengeti to Maasai Mara, but we arrived after the migration had happened. We still saw some wildebeest though. We saw a huge male lion resting under a tree. He was panting a lot. I worried about him a little, but he was probably just hot.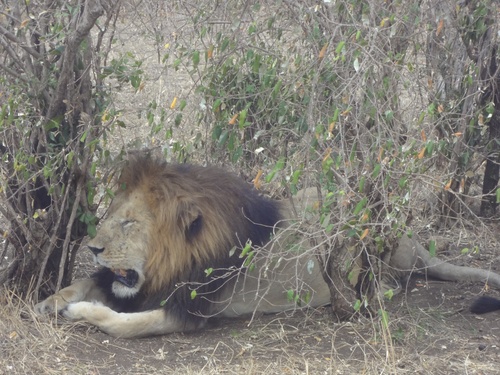 The highlight of the day was seeing a pride of 14 lions devour a buffalo. We were mesmerized and probably spent almost an hour watching. We called one of the cubs "Bloody Face" because he had plunged half his body into the stomach cavity of the buffalo and emerged with a red face. The lions seemed to share the bounty without squabbling. When they had their fill, they moved away and rested. I had been wondering since we started planning the trip if we would see a live kill and how I would feel about it, and during the trip I learned that it's very rare to see a live kill. I also realized that I didn't really want to see it. Watching them eat was disgusting yet enthralling, and it was good enough for me. We saw a cheetah on our way back to the lodge. We felt exhausted but I'm sure Kamunge felt much more exhausted after driving us around for 10 hours. We were so lucky to have such an awesome guide.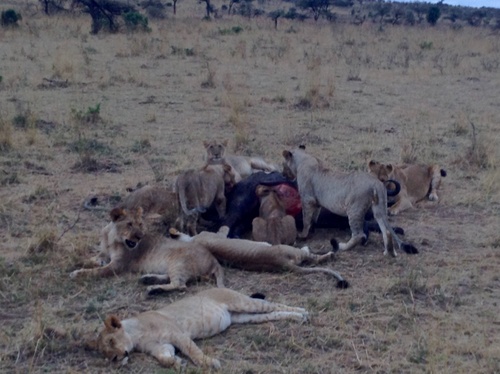 Our last safari day began with a 6:30am game drive. We got our best look at a cheetah. She came very close to our vehicle. We spent the afternoon at the lodge. It was Maasai cultural day and some of the Maasai had set up a marketplace. We haggled for a few souvenirs and saw a blacksmith demonstration. On our afternoon game drive, we spotted 2 leopards in a tree. They came down from the tree and we tracked them for a while, until it started to rain and we lost them. We couldn't believe our eyes when we saw the same pride of 14 lions devouring another buffalo, just a few yards from yesterday's buffalo carcass. Although it was drizzling, we watched this spectacle for quite a while. We had to move the truck because the odor from the carcass was overpowering when we were downwind of it. This was a climactic ending to our safari!
Back at the lodge, we saw some Maasai warriors dancing. They jump very high in place as a way to attract women. Highest jumpers get the hottest babes. We then enjoyed a final dinner with Kamunge and one last night sleeping in our giant tent, lulled to sleep by jungle sounds. We were sad to leave the Maasai Mara.
After leaving the park, we stopped at the Olmalaika Home, a home for girls who are at risk of female genital mutilation and early childhood marriage. Our tour company, African Springs Safaris, also runs this home, and they set up mission trips where doctors, dentists and volunteers visit Kenya to set up clinics in remote areas. We got a tour of the home and met the girls who sang a few songs and even put on a play for us. It was really moving to see the community they have built. These girls get to go to school and have a chance to pursue their dreams. It's wonderful work to support.
We rested on the drive back to Nairobi and stopped at the Galleria again for lunch and last minute shopping. Kamunge dropped us at the airport, and we were sad to say goodbye. Then we began our 22-hour journey back to Los Angeles. It took me almost a week to get over the jet lag.
Kenya has such a variety of parks and wildlife. Of all the parks we visited, I enjoyed Amboseli and Maasai Mara the most. But we had amazing moments in all the parks. There is nothing to compare to being so close to wildlife in a setting where they are free. If I went back, I'd like to visit the beaches too. I think it would be a nice way to break up all the game drive days with a couple days at the beach.
Don't be afraid to visit Kenya - this trip was a spectacular experience!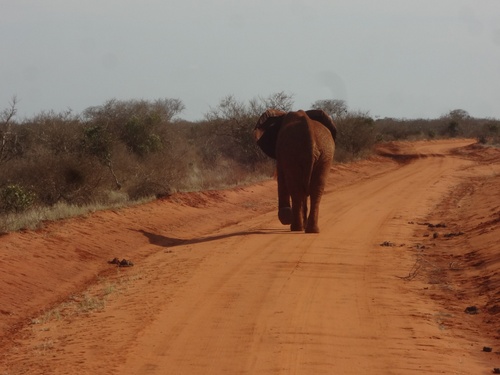 My photos and videos from Kenya
Read more Ape Culture travel stories
African Springs Safaris - our tour company
\
Ape Culture and all associated pages are
©Ape Culture 1998-2007 and evermore.