The Death Valley Super Bloom - It's Super!
Experiencing marvels of nature in Death Valley and oddities of human nature in Pahrump, NV
"What makes the desert beautiful," said the little prince, "Is that somewhere it hides a well." - Antoine de Saint-Exupery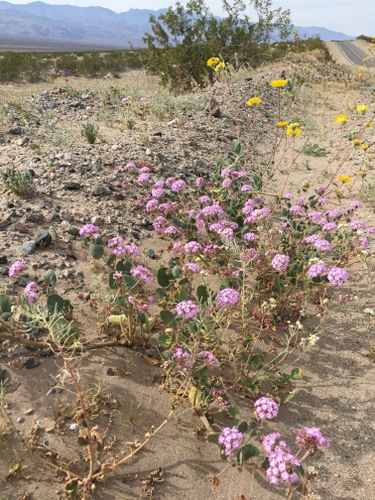 I had been wanting to visit Death Valley for years, so when I heard about the "Super Bloom," I decided to make a quick three-day trip. I planned it very fast as there's no predicting how long the wildflowers will last. The "Super Bloom" happens maybe once per decade, when conditions are right, and this past Fall's El Nino rains made this the year.
Day 1 - Thursday - 3/3/16
I left LA at 6:30 AM so that I'd be able to get to the park by midday. Google Maps took me on some remote roads and there were barely any services. Fortunately, I was able to fill up on gas in Searles before hitting the 178 and going up along the western edge of the park. This route dumped me onto the 190 near the west edge of the Park, but it bypassed the curvy mountain roads of Panamint Springs. I proceeded to Stovepipe Wells where I bought my park pass ($20 for a weekly pass) and continued driving to Mesquite Dunes. I clambered around on the dunes a bit and looked for C3PO and R2D2. On my trip, I referred to this excellent guide to the Star Wars locations of Death Valley and found a few. Most of the locations are from Star Wars Episode IV: A New Hope, but there are also some from Star Wars Episode VI: Return of the Jedi.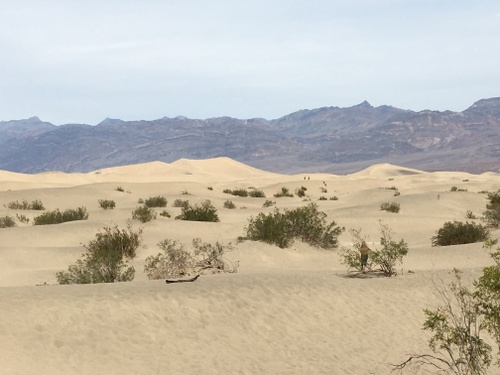 I got my first glimpses of wildflowers along the 190 and took the turnoff to Salt Creek Interpretive Trail. A post-it note on the stop sign for the road said "FISH HAVING SEX" with an arrow pointing toward the trail. Who wouldn't be motivated to take that road?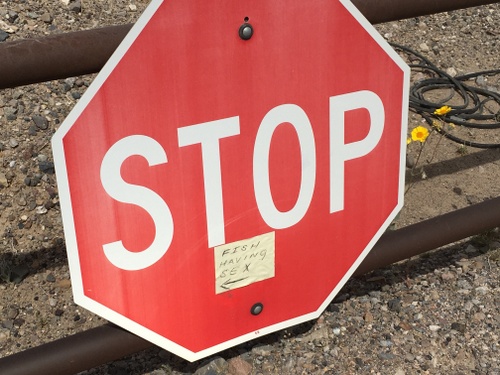 Salt Creek has a nice half-mile loop trail on a boardwalk that crosses over and runs parallel to the creek, which was very shallow. Yet, somehow the pupfish manage to live and breed in this water. They were tiny but I could see them darting around and got some video of them.
I then followed the advice of the official Death Valley wildflower blog and took the Beatty Cutoff road to Mud Canyon for a loop of beautiful wildflowers. I was able to spot Desert Gold, Notch-leaf Phacelia, Desert Five-Spot, Bigelow Monkeyflower and other flowers I couldn't find in the info pamphlet. There was true abundance on this route.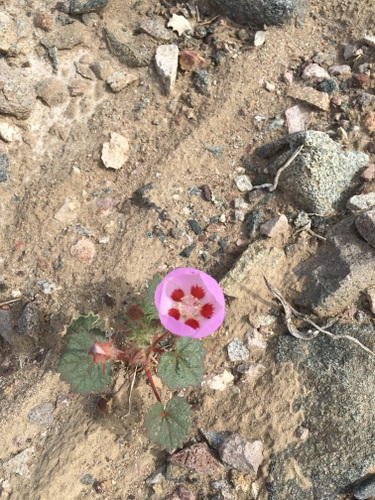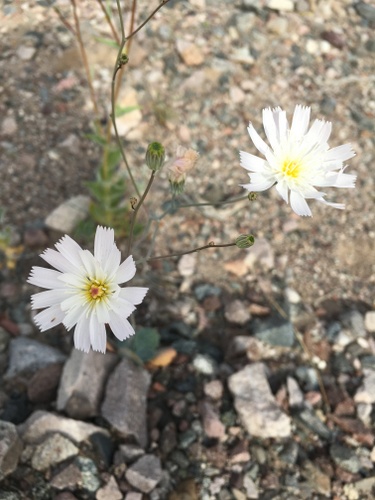 The loop dumped me back on 190 and I continued along to the Harmony Borax Works interpretive trail. This short trail takes you around the ruins of the Borax mine and you can see a wagon that was pulled by the 20-mule teams.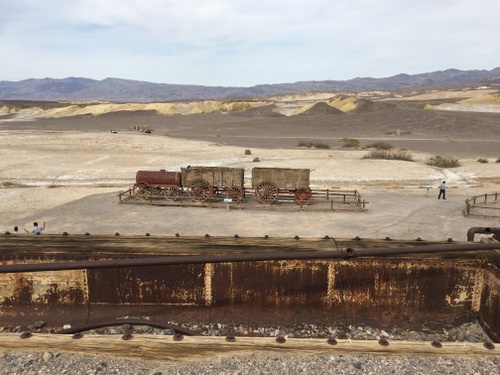 I checked out Zabriskie Point which has spectacular, colorful canyon views. It's an amazing spot for sunrise, I'm sure. It was late afternoon by this point and I was tired from the driving, so I continued along the 190 to the eastern entrance of the park and Desert Valley Junction. Because the lodging in the park was sold out due to the popularity of the "Super Bloom," the nearest hotel I could find was in Pahrump, NV which is about an hour's drive from Death Valley's western entrance. I could have camped in the park but I don't really like to camp by myself.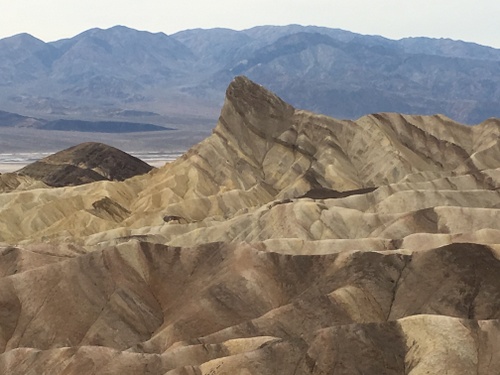 Pahrump is a surprisingly sprawling town, and I would come to learn it was noted for several things: (1) several of Dennis Hof's brothels are nearby - well, they are really in the middle of nowhere - like 20-40 miles from Pahrump; (2) the Front Site Firearms Training Institute offers a 4-day gun handling course that attracts people from all over; (3) casinos. Pahrump is only 60 miles from Vegas, but it has its own gaming scene. I checked into my room at the Pahrump Nugget and found it to be clean and comfortable. The hotel has a variety of dining options and unfortunately I picked the worst one - The Gold Miners Buffet - because I was starving and had limited time to eat. On the plus side, it was only $8, and they had a special where you could also get a 16 oz can of PBR for $1. On the negative side, none of the entrees looked very appetizing so I had a corn dog and salad for dinner.
Day 2 - Friday - 3/4/2016
I slept in a bit, had some breakfast and hit the road @ 10:00 AM. I decided I would take the 178 entrance to the park near Shoshone but I had neglected to read all my park info and found out as I arrived that part of 178 was closed due to flooding. I had hoped to travel up Badwater Road from this southeast point but instead detoured back to Death Valley Junction and entered the park the way I left the previous day. The park roads can often close due to flash floods and other situations, so it's important to pay attention to the info they give you. Don't be spacey like me! The road to Scotty's Castle has been closed due to flood damage for some time, so I would not be able to visit it on this trip. A ranger told me it likely won't open until 2017 because they have so much damage to repair.
My first stop was Dante's View which has a short trail that provides amazing vistas over the Badwater Basin salt flat. This is also the point where Ben Kenobi pointed out Mos Eisley spaceport to Luke in Star Wars Episode IV: A New Hope. I saw a chuckwalla - the largest lizard in Death Valley - but wasn't close enough to get a good pic.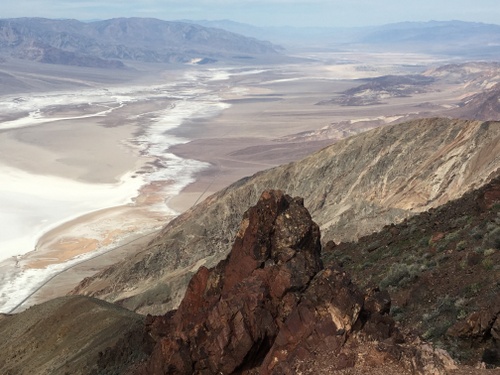 After this hike, I headed to Badwater Road and drove until @ Mile 40. I stopped many times to wander and take pics of the flowers. There were fields of Desert Gold everywhere and occasional patches of other flowers. It was truly a spectacular drive. Sometimes I'd see one little yellow flower emerging from a tangle of sticks, rocks and dust, and I'd wonder how anything could grow in these conditions. Yet, there was blooming life as far as the eye could see. It was only about 80 degrees so it was very pleasant to walk around and take it all in.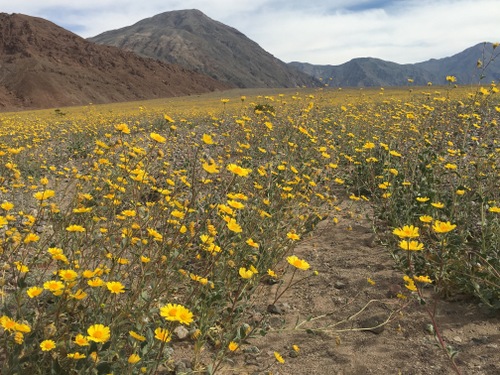 I stopped at Ashford Mill to see the ruins and then hiked a little over ½ mile into the Badwater Salt Flat. This reminded me a bit of being on the playa at Burning Man, although it wasn't at all dusty. There was a small pond with a boardwalk around it to protect the snails that live in the pond. I spotted one snail.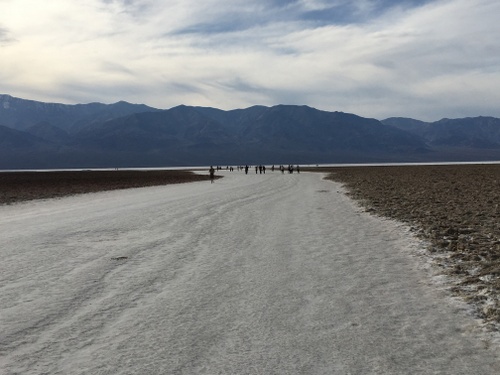 I turned off Badwater Road to take the Artist's Drive which is a nine-mile loop that includes a stop at Artist's Palette - a site where the canyons have varied colors - browns, reds, oranges, and greens. This is also a spot familiar from Star Wars Episode IV: A New Hope. From the overlook at Artist's Palette, you can see into the canyon where R2D2 once rolled along. I stopped at Golden Canyon and hiked in just a little ways, as it was started to get dark. I stopped off at Furnace Creek Resort to check out the gift shop. In addition to the Furnace Creek Ranch motel, the village has two restaurants, a saloon, and a general store, a Borax museum with an old train and wagons on display, a golf course, and stables. There's also the fancier Furnace Creek Inn, a bit farther west on the 190. I would love to stay at these places on a future visit.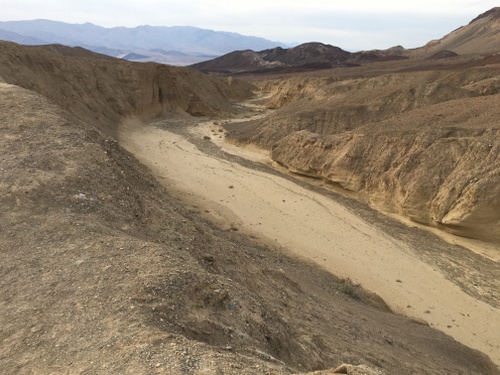 Back in Pahrump, I had dinner at the Stockman's Steakhouse at the Pahrump Nugget, and it was really delicious and leagues above the buffet. And my martini was only $5.50! Since it was Friday night, I ventured out to Vince Neil's Tatuado Wild Side Tavern, a bar that had just opened a few months ago and had very little social media presence. The bar was in a residential neighborhood and although there were only about 30 patrons, I thought it was a fun place. Drinks were cheap ($4.50 for jack and coke) and they had a good singer named Chase Brown performing. I enjoyed checking out the Motley Crue memorabilia hanging on the walls. The bouncer told me they would be building an outdoor stage and hosting touring acts soon, even Vince himself. Back at the Nugget, I played black jack next to a woman who seemed familiar but I couldn't identify because she was covering up her mouth and nose with her sweatshirt since there were two guys smoking at the table. We only played a few hands before she got frustrated and moved to a different table. I later found out that woman was Heidi Fleiss, who lives in Pahrump and is a regular. I played blackjack until the wee hours enjoying the company of the friendly dealers (one of whom was a former pro bowler) and other patrons and eventually won back my $200 investment plus $30 - yay!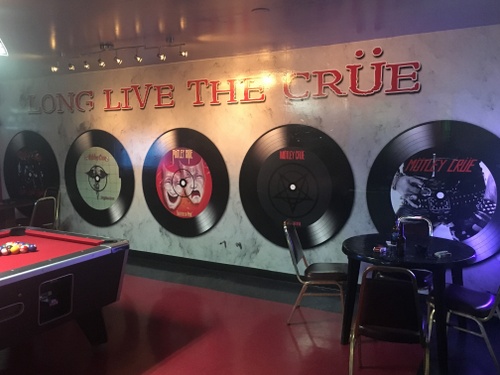 Day 3 - Saturday - 3/5/16
I definitely overdid it on the free drinks while gambling, so I was slow to rise. I packed up and got on the road @ 11:00 AM. I took a northern route to the park, taking the 160 to the 95 to Beatty. This route featured some lovely scenery and a turn off to Crystal, NV, home of the Love Ranch, where Lamar Odom almost died. I also passed the Alien Cathouse brothel in Amargosa Valley along this route. The road led to Beatty, another gateway town for Death Valley, and from there I proceeded to Rhyolite ghost town. I walked around and checked out the decaying buildings such as the train depot, bank, and store. It was neat to see Tom Kelly's Bottle House, built in 1906, and some of his sculptures. I also checked out the Goldwell Open Air Museum which has some cool outdoor art installations.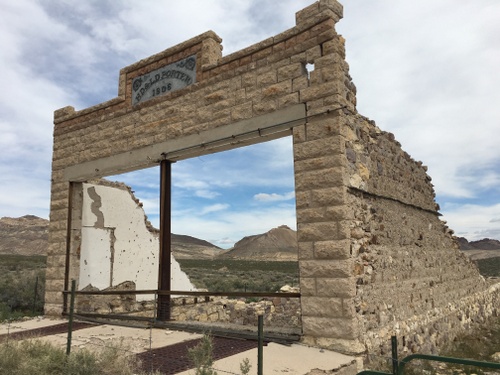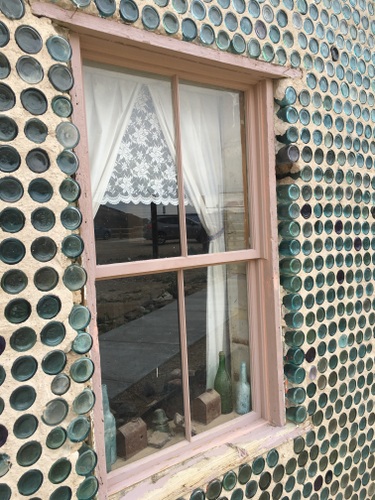 I took the 374 back to Mud Canyon for one last look at the flowers and then caught the 190 and retraced my path from Thursday when I had entered the park. I saw the Mesquite Dunes again, and this time I continued on the 190 to the edge of the park so I could enjoy the views along the steep, winding roads and visit Father Crowley's Vista Point. The canyons were very colorful on this stretch of road, and I definitely recommend it. The drive on the 190 back to the 395 was also scenic, with more salt flats and canyons to admire. From the 395, it was about a three-hour drive back to LA. I'm really glad I made the trip and hope to go back sometime to try some of the longer hikes in the park and see Scotty's Castle when it reopens. If I had an offroad vehicle, I would love to see the racetrack too. The park is huge and definitely merits multiple visits, but if you have a chance to visit Death Valley soon to check out the Super Bloom, do it!
The official website for Death Valley National Park
Read more Ape Culture travel stories
Ape Culture and all associated pages are
©Ape Culture 1998-2007 and evermore.