Never Underestimate the Power of a Plaid Bow-Tie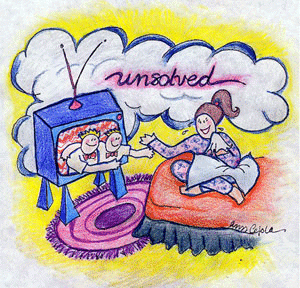 I may read Dante's Inferno or study Jane Austen, but when it comes to TV, my first love has always been Unsolved Mysteries. Until last season when it disappeared, this program was a Friday night staple for me. I loved the way Robert Stack emerged from the fog in his double-button raincoat and steady gaze; the creepy (doo-doo, doo-doo) synthesizer music; the Unsolved Mysteries themes floating across the screen...haunted... forbidden...murder....
Was there an amused gleam in Stack's eye? Was he thinking, "I get paid six figures to report this junk?" or was he enjoying interceding on behalf of America's lost, grieving and just plain out there? I searched his face for clues. As he outlined the night's stories, I clutched my pillow, my mind racing with "I have to know! I have to know!"
Each story was told documentary-style, cutting between the people involved and actors. Like dopplegangers, actors similar in appearance to the participants portrayed them. I wonder if the overweight brunette on screen sat home wincing at her husband and sighing, "I don't really look like that, do I, Harry?"
I loved Unsolved Mysteries especially for its family reunions. We heard about children separated at birth, hard times fallen on good parents and the endless paper trail of foster care. Unsolved Mysteries flashed photos of the missing siblings or children, always with heartbreaking smiles, blissful and unaware of devastating separations to come. Seeing these snapshots, you wanted to reach into the screen and save these kids.
One week a fortyish woman, Karen, sought out her long-lost brothers, Chipper and Chris. In their 50s Sears portrait, the two sported blonde crewcuts. They looked like such happy little men at ages six and eight. But it was the small plaid bow ties and white short-sleeved shirts that put me over the edge.
"She's just GOT to find them!" I bawled. Even my husband, who rolled his eyes at my tears, felt a little choked up. After all, I always cry during Unsolved.
The show was my prime-time psychodrama. Our bedroom became the Greek amphitheater where I wept over modern American tragedies. To explain my reaction to the missing brothers, a therapist might have said I was grieving my never-close relationship with my brother. Fine. Blowing my nose into a tissue, I didn't really care...as long as they found Chipper and Chris!
Unsolved, despite its name, also offered resolution, something rarely found in real life or on TV. At each episode's end, Robert Stack sent the viewer over to Keely Shaye Smith in the Call Center. Shaye Smith, with a Mona Lisa-look similar to Stack's, strolled between carrels where operators were busily taking calls. People all over the country were phoning in, nailing the missing and wanted.
One Florida woman once called to identify a murderer. She had wondered when a visiting acquaintance insisted she turn her TV channel from Unsolved to another program. A ferocious Unsolved fan like me, she shot back, "I will NOT!" He then went into the kitchen to speak with her husband. After realizing the man on the screen was also the guy pulling a beer from her frige, she called the police.
With so many "wanted" people out there, I started thinking some inhabit my world. I was convinced a local security guard was a child abuser on the lam. Whenever I greeted her, I studied her face. "Naw," I would say, then, "still...." I knew my Unsolved fever would eventually convince me my mother is Amelia Earheart. "She doesn't like to fly. Still...."
After missing some episodes, I returned to learn Chipper and Chris had been found. One brother called in that same night the first appeal aired. For good measure, Unsolved again showed the bow-tie photo. I ran to our den where my husband was working online. Throwing open the door, I sobbed, "They've found Chipper and Chris!" Knowing exactly whom I meant, he said, "That's great!"
I ran back to catch the reunion. Unsolved reunions always took place on a sunny day in someone's backyard. You could almost smell the barbecue. Everyone would be somewhat shy, excited or weepy. The women would whisk away discreet tears while men gave each other wide hugs. People would say awkward things such as, "You know who I am, don't you?" and "Yep, I knew it was you from your photo."
When Karen found Chipper and Chris, I could sleep better. Thanks to the 800-number, Unsolved gave us this rare sense of nationwide community. We could all make sure the con artist gets caught or three siblings meet again. In this respect, Unsolved was probably the first truly interactive TV: "That murderer you're looking for? Well, he's in the kitchen talking to my husband."
In my heart of hearts, I wanted Robert Stack to solve the unsolved mysteries in my life. Why did my great-grandfather Henry leave his wife Isadora? Even our 93-year-old family matriarch is clueless. I wanted Stack to help us out: "Price was last seen leaving his home the night of February 4, 1895. If YOU have any information leading to..."
Ah, life would be so simple with Stack to handle our unsolved mysteries, the operators to make the connections and Shaye Smith to report. But life is cruel, even to programs on network TV: Unsolved is no longer in its prime Friday spot, but has moved to CBS as a sometime special.
If you're wondering where the real Unsolved went, it's become Dateline. NBC's Dateline features at least one murder per show, complete with jury angst and a call-in phone number for viewers to give their opinion. But, unlike Unsolved, there is never resolution or an occasional happy ending. Why, for God's sake, are Jane Pauley and Stone Phillips smiling?
Viewers, we can't let Stack fade into the fog. It may be time for me to go on national TV with an urgent appeal. First, I'll head to Sears for that family portrait. It's not too late for my 43-year-old brother and I to pose together. It'll be our special reunion, when we finally get close. We'll even wear matching bow-ties. You'd care then, wouldn't you? Promise me you'd cry at least.
Do you miss Unsolved Mysteries? Solved any lately?
Ape Culture and all associated pages are
ŠApe Culture 1998-2007 and evermore.