Waiting with the Rossi Posse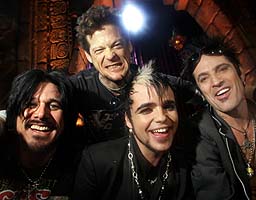 Now that Rock Star: Supernova is over, and Lukas Rossi has won the right to croon for the band, I'll tell you about a taping I attended a few weeks back that I think will shed some light on what many found to be a surprising outcome.
Some days I like to do things that remind me of why I live in LA, like go to TV tapings. Most of the time, these aren't as much fun as they sound. For instance, I once spent 4 hours in a freezing Warner Bros studio watching endless retakes of unfunny Freddie scenes, where the main entertainment came from watching stage mother Sarah Michelle Gellar boss hubby Freddie and the producers around. One time I got up at 5:00 AM to go to a taping of The Price is Right . While it was fun, it wasn't worth the sleep sacrifice, since I didn't end up in Contestant's Row.
I had been excited about Rock Star: Supernova from the moment I heard about it. Although I didn't watch last year's Rock Star: INXS , I am addicted to American Idol , and the idea of a new show about the search for a hard rock singer was totally up my alley. Plus, Tommy Lee is always entertaining, and Jason Newstead always seemed smart. So I tuned in from the start of the show and began a betting pool with some friends to make it extra-interesting.
When I got a chance to go see the show live, I couldn't pass it up. Friends who had gone to a taping the previous week told me I needed to arrive very early because regulars in line had told them that a lot of VIPs were showing up so sometimes only 25-50 plebian ticket holders got in. Although my ticket said to arrive at 2:30 PM, I got to CBS at 9:00 AM.
There were only 4 people in line ahead of me, so I groaned, thinking I could have slept in a bit later. Then as I asked them if it was the Rock Star line, they all piped up to tell me they were saving places for multiple friends. I didn't make a big deal about it, since I'd still be in the Top 25, but that kind of behavior is always annoying. So I sat and read my magazines on the sidewalk facing Beverly Dr . A cool gal who arrived just after me introduced herself, and we chatted. She had been coming every Sunday. She told me the people in the front of the line came to every Sunday and Wednesday taping. One guy in line came all the way from Lancaster twice a week.
Most of these regulars were fans of Lukas Rossi. This surprised me a bit. If anyone would inspire groupie-like behavior, I'd expect it to be the hunky Toby Rand. From what they said, Lukas was the most approachable of the rockers - a friendly and cool dude. I did like watching Lukas, and I think he'll be successful. I didn't really think he was right for Supernova, and some in line agreed he'd be better off on his own. One gal had brought a gift for him - a cross that she bought for $100. Others made signs that said "Rossi Posse" or wrote L - U - K - A - S on their knuckles with a Sharpie.
Around 10:00 AM, members of the house band and Supernova began to arrive. Gilby Clarke drove by in a cool El Camino. Dave Navarro arrived in a very dusty Hummer. They waved to the regulars. This would be the extent of the excitement for the next few hours. More fans arrived to join their early-rising friends. There were conversations about Dilana's trash talking of her colleagues from the previous week. Most seemed to still be supportive of her. Although most were devoted Lukas fans, they all had respect for the other rockers, and deservedly so. One thing I really like about this show is that, unlike American Idol , everyone in the top 15 could really sing. They all had experience in bands and as songwriters.
Around 2:00 PM, pages emerged from CBS to take our tickets and escort us to the holding areas where we'd be able to sit on benches instead of the curb. It sure felt good to relieve my numb butt. There was a separate holding area for VIPs. I noticed a group of newcomers - The Pretty Girls. The Pretty Girls didn't have tickets or need them. They would be escorted to the front row. The hard core fans grudgingly accepted this reality. You never forget where you are in the food chain in LA. Anyway, they weren't interested in the front row - they wanted to get a position near the "Rocker Pod" - the area in the studio where the rockers sat in between their performers. They would do their best to get the rockers in conversation during breaks in shooting, despite security guards who attempted to stop the fraternization.
Around 3:30 PM, we were led into the studio after the VIPs and The Pretty Girls. I left my new friends and went to the right side of the studio where I could have a good view of both the stage and the "Supernova Pod". Gradually, I got pushed further back from the catwalk as more Pretty Girls were led to the front. A PA actually stood on the catwalk and appraised the crowd and invited attractive people to the front. A warm-up guy got us pumped up by teaching us how to clap with our arms over our heads, pump our fists in the air, and make the devil horn sign of heavy metal approval. He even prepared us for what to do during a slow song - wave our arms over our heads in unison. I started to wonder if I'd feel like I had spent an hour on the cross after doing all these cheering exercises plus doing them during the show.
After some more waiting around, the taping began. The rockers came out and received adulation from the crowd. Brooke Burke emerged, looking plastic but not yet showing signs of being pregnant. Dave Navarro and Supernova took their seats. Tommy Lee was wearing jeans and no shirt, but CBS censors promptly told him to put a shirt on. When a stylist handed him a shirt, he threw it to the crowd, but the stylist insisted on getting it back and finally got him to wear it. Tommy would later comment that it seemed strange he would be allowed to wear low-rise jeans that practically bared his pubes yet not to be shirtless.
The show began with a video montage of life in the mansion. Last week, Dilana did serious harm to her image by trashing her fellow contestants during a "press clinic." Her image didn't improve in this home video, as she was shown having a crying fit that ended with her smashing a wine glass on the patio. A piece of glass flew up and hit Magni's bald head, causing a little blood to flow. Dilana then felt even worse and ended up sobbing in a heap in Storm's arms. Dilana looked stunned after the montage, clearly upset that her most personal moments were being aired. Jason Newstead was angry as hell. "This is fucking insane. She's done nothing wrong," he said, launching into an impassioned speech on Dilana's behalf. Storm Large piped up to say she wished the show would focus on the music and not try to make their lives into a soap opera. Interestingly, none of this footage made it to TV.
This was "Fan Selection" week, in which fans voted online on the songs each rocker would sing. Not surprisingly, the fans picked new songs for each rocker. Lukas rocked "Lithium," a song previously sung by Dilana. The show continued to build a rivalry between these two stand-out talents.
Mangi belted "I Alone" by Live, which I guess fans chose because he's bald like the Live singer. His performance sounded like an exact copy of the original except it lacked the passion. The best part of his performance for me was that he walked through the crowd right by me twice, and I was able to briefly glimpse myself on TV.
Ryan did his version of Coldplay's "Clocks" which involved him practically having sex with his piano. I enjoyed his performance, but he's just not right for the band. He's more in the Ben Folds mold. Plus, who can forget his hideous performance art experiment of wearing a ridiculous wig? It's just a slight surprise that he would be sent home the next night. I predicted it would be Magni but apparently Iceland can power-vote just as well as Hawaii did for Jasmine Trias on American Idol .
Storm went next and was forced to take on Evanescence's "Bring Me to Life." Toby backed her up. Amazingly, I didn't even realize Toby was singing with her as I stood there in the studio. Storm just held my attention to where I didn't even glance back at the band, which was where Toby stood. Plus, the acoustics in the studio weren't the greatest, so I didn't hear his voice over Storm's, the music, and the cheering. I think Storm has the most pure voice on the show, but she's probably too good for this band. Plus, judging by his comments and tongue constantly lolling on the floor while watching her, Tommy can only look at her as a sex object, not as a fellow musician.
Toby rocked Billy Idol's "Rebel Yell." He pulled some of The Pretty Girls up on the catwalk. He's a lot of fun to watch, and I really think he's the best fit for the band. He has the good looks that can really help these aging rockers in their quest to attract hot groupies backstage. Plus, he's got great energy on stage, charisma, and a decent voice.
Dilana performed "Mother, Mother" and gives her typical impressive performance. She has a riveting stage presence and radiates intensity. She also has a truly unique voice, slightly reminiscent of Stevie Nicks but much more coarse. I thought it would be awesome if she made the band, but after her recent bad behavior it seemed unlikely even then. Since he had to deal with Axl's ego, Gilby likely wouldn't want to take on another head case lead singer.
The rockers and Supernova members fraternized with the audience a little after the taping ended. Tommy and Dave tried but failed to get audience members to get naked. The taping went very quickly once it got going. There were no performance retakes, although Dave and Brooke had to redo a few of their lines. I would definitely say this was the most fun I've had at a TV taping and I can kinda see why some folks were going every week (just kinda).
I thought back to my experience as I watched the show's finale. The final two were Dilana and Lukas, and Lukas won. Lukas definitely had the most fans at the taping I attended, and they were already obsessed about him when he was far from famous. In line, they were speculating he was the predetermined winner since his hometown Toronto was one of the Supernova tour dates. Yet some of the fans were hoping he'd just take 2 nd place so he could have more creative freedom and be able to form his own band. I think that would have been the better outcome for Lukas and for Supernova, and I think Jason Newstead would agree with this assessment. He looked pissed off after Lukas was announced winner, and not just in a metal way. He was a staunch supporter of Dilana at the taping I attended, but his comments were totally cut from the broadcast. There did appear to be heated deliberation between the guys before the winner was announced. I imagine Tommy and Gilby outvoted him. Tommy was no doubt not comfortable with the idea of having a girl in the band, and I bet Gilby feared Dilana's drama factor. All in all, I still think #3 finisher Toby was the best match.
Based on the odd combination of singer and band and the unremarkable new tunes we heard on the show, I don't see a long future for Supernova. I predict it will be one album and one tour and out. But I think everyone involved will survive the wreck, and Lukas will have an interesting career ahead of him.
Read other Ape Culture stories on celebrity obsession
Who was your favorite member of the rocker pod? Add your thoughts here.
Ape Culture and all associated pages are
ŠApe Culture 1998-2007 and evermore.