If You Can't Say Anything Nice...
Ape Culture's kinder, gentler award show coverage of the 2003 Golden Globe Awards
Recently an mentor of mine pointed out recurring instances of derision in some of my poems….thereafter, to my dismay, I started noticing signs of cryptic sarcastic criticism in my essays as well as other writings. I worried that I was becoming a kind of snide critic, a baby curmudgeon, if you will. Unsure if this was the direction I wanted to take, especially as an outsider, where curmudgeonly comments are viewed with suspicion, I decided to attack this year's Golden Globe awards from a fresh positive-comments-only perspective.

Nerdia's comments on the Red Carpet Arrival show on NBC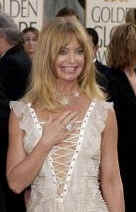 The first person to be interviewed on NBC's coverage was Brendan Fraser. I enjoyed the inexplicably serious tone he took while talking about his next, very serious project, using words like "indeed" to punctuate his overview. He really wants to be taken seriously. I respect that. He's the poor man's drug-free Robert Downey Jr. He really is.
Dennis Quaid – I like Dennis Quaid…he's due for a comeback!
The happy hippie, Goldie Hawn, fascinates me in that she feels no need to dress age appropriately. My mom thinks her perky routine is complete bull-crap (although my mother didn't put it quite that way) but I don't think so.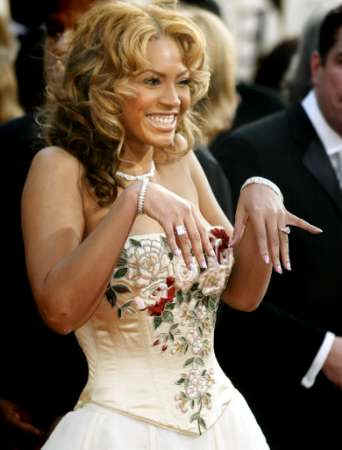 Coolia thinks Tom Hanks is unbearably arrogant in interviews. I don't think so. I think he's just stiff and has a head cold all the time.
Beyonce Knowles – I like her dress. Flowers are nice.
Oh my! Celine Dion is in new car commercials singing one of my favorite songs "I Drove All Night"! Yeah! I would usually find Celine annoying. But not today!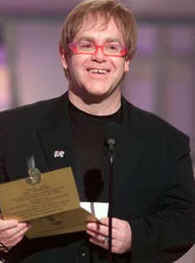 See how Elton John always wears a toupee that suggests male pattern baldness? And he can always be counted on to sport interesting eyewear!
Ed Harris and Amy Madigan…one of my favorite Hollywood couples. Nice to see them here tonight.
I like how Matthew Broderick is so shy. That's cute.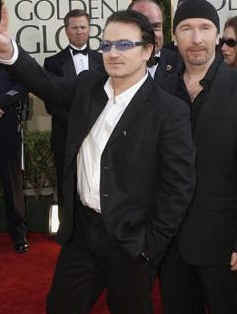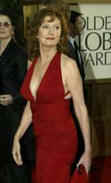 I love how Dick Clark introduces Bono and The Edge as being in the band The U2. He's finally showing his age. How nice. And I love how Bono can't seem to misplace those colored sci fi glasses he always wears. Good for him!
Kudos to Susan Sarandon who feels brave enough to show off those arms! You go girl!

Coolia's comments on the E! Arrival Show
Joan and Melissa are nice to everyone to their face, but then on the post-show they'll be ripping them to shreds. It's a wonder anyone even stops to talk to them anymore!
Cynthia Nixon looks gorgeous. She's already lost that baby weight. Her Sex and the City co-star Sarah Jessica Parker also looks great.
Is it just me or is Catherine Zeta-Jones always pregnant? She's the new Annette Bening.
It's only fair to give a few lines of commentary to Lara Flynn Boyle. After all, she wore that tutu to guarantee herself a mention in every Golden Globes article and pictorial. Is any publicity at all good publicity? It remains to be seen.
Sleek up-dos are de rigueur for the starlets of 2003. I haven't seen a hair disaster yet.
The Show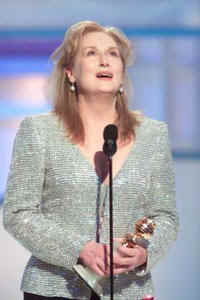 [Nerdia] Meryl Streep earns points for showing up with bad hair and a shiny face. This would be me up there, no doubt, if I won anything. I love Meryl for this…I really do. She's due for a comeback.
[Coolia] She gave two great performance in Adaptation and The Hours so it's fitting they gave her at least one award. She really was hysterical in Adaptation. She's somebody I could never picture on drugs until I saw her high on orchid dust in that movie.
I was glad to see Curb Your Enthusiasm win. Larry David's speech was funny, especially when he said the award should guarantee him some nookie from his wife.
[Nerdia] It was funny how Jack Nicholson's hair stuck straight up in a kind of static electricity doo. Very daring. He deserved to win. I liked that movie.
[Coolia] I wanted to fix his hair. Too bad he didn't have a date to do that for him, but I guess he draws the line at dating little ballerinas.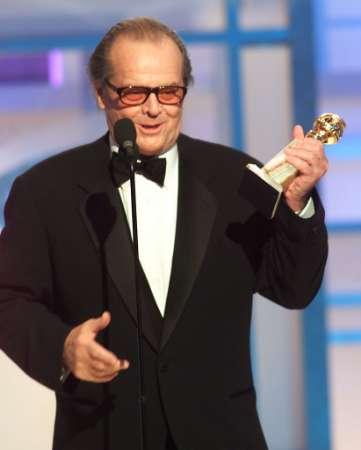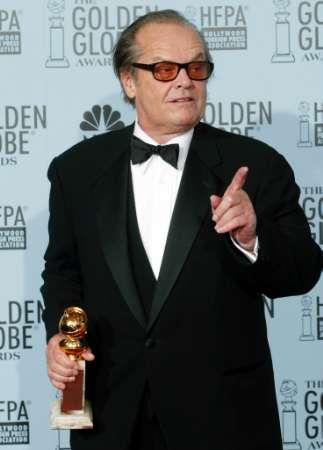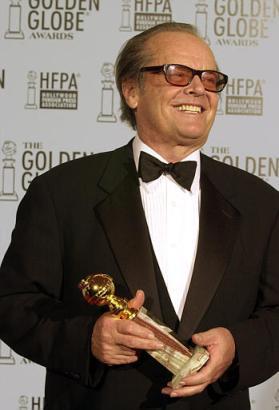 Parade de Jack: Read more about Coolia's Celebrity Obsession: Jack Nicholson.
[Nerdia] Jennifer Aniston is my favorite Friend. She's virtually unhateable. I think it's great that Brad Pitt seems to be eating more during his time off.
[Coolia] A lot of people were complaining about Brad's long hair but I think it looks good. But then, I don't think Brad could look bad, even if he was wearing a tutu.
[Nerdia] We're getting more Celine Dion car ads every few minutes. She's singing "I Drove All Night" again…maybe she means we should drive all night to see her show in Vegas next month.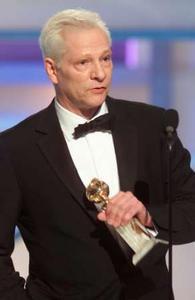 I LOVE that Chris Cooper won. He's one of my favoritecharacter actors way back to American Beauty, charming Uncle Joe in Great Expectations, and goofy July Johnson in Lonesome Dove…I remember him from some comedy, too…I just can't put my finger on it…
[Coolia] It's nice to see supporting actor and actress awards going to peeps who were in comedies. Chris was a great hoosier in Adaptation.
[Nerdia] Seeing Carol Burnett is a treat. If I had it to do all over again, I would try the Carol Brunett track and learn physical comedy so I could work with people like Amy Sedaris.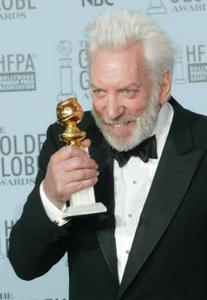 I can't say I'm happy that none of my Malcolm in the Middle parents won anything, but it was interesting to see winner Donald Sutherland sporting Keifer hair.
[Coolia] Self-deprecation goes a long way in a puffed-up award show, and when Donald made the comment about having Don King's hairdresser, I LOL'd.
[Nerdia] I appreciate how Richard Gere finally admitted that he doesn't know anything. He works my last nerve. Gotta love that.
[Coolia] I had been avoiding seeing Chicago because it has three of my least favorite actors in it--Gere, Zelwegger, and Zeta-Jones. But now that it's winning so many awards, I guess I better see it.
[Coolia] I'm really glad Uma won for Hysterical Blindness. Her desperation in that movie was difficult to watch--a brave and painful performance.
[Nerdia] Notice how Lara Flynn deflected comments about her thinness for comments about her ridiculousness. Smart.
[Coolia] Sharon Stone seems bent on out-ridiculousing Lara. The camera loves her. They keep cutting to her and hoping that she'll do something wacky. We have to remember she probably still hasn't recovered from that brain surgery.
[Nerdia] I love seeing Cyndi Lauper bowling and singing a Dr. Pepper song.
[Coolia] Ed Norton and Selma Hayek are making googly-eyes at each other. Ahhh, love.
Tony Shaloub winning was a surprise. I still think of him as the goofy cab driver in Quick Change.
[Nerdia] Gene Hackman looked as if he was critiquing his own performances during he montage. He's a cool cat.
[Coolia] Gene is still sexy after all these years, in an average joe kinda way. I am still pissed that he didn't win awards for The Royal Tenenbaums.
[Coolia] I was so pleased to see Jack win and then give a funny and non-embarrassing acceptance speech, even if he did hit on Nicole Kidman. I agree with him--I thought About Schmidt was a comedy too.
[Nerdia] I agree with you too. I really enjoyed seeing musicals sweep award shows for the first time in my short life. Martin Scorsese winning was nice, as well. And Nicole Kidman's speech was great! I love that "a woman's movie" The Hours won top spot!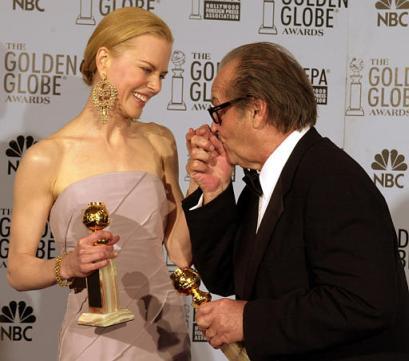 [Coolia]: I thought The Hours was an amazing film, but I would have voted for The Gangs of New York. Gangs is just the most impressive movie I've seen in years, epic and awe-inspiring and anchored by an excellent performance from Daniel Day Lewis. They are both great films--and so are About Schmidt and Far From Heaven. That's what makes these award shows frustrating--they're comparing apples and oranges.
[Nerdia] Mostly, I love how this show was no more interesting that the other award shows. I got the whole Sunday paper read!
[Coolia]: Yeah, they didn't focus the cameras on the schmoozing enough. I'm sure the most interesting stuff was happening on commercial breaks. Deals were being made and after-party rendezvous were arranged while we were watching Celine drive!
Look how much shorter our award show reviews are when we force ourselves to be nice. If you want to read some nastier reviews, check out our award show review archive.

What did you think of Lara Flynn Boyle's tutu? Share your Golden Globes thoughts.

Ape Culture and all associated pages are
ŠApe Culture 1998-2007 and evermore.