Woodstock '99 Haiku
Two survivors attempt to process their feelings in 17 syllables

By Grunge Girl and Julie Wiskirchen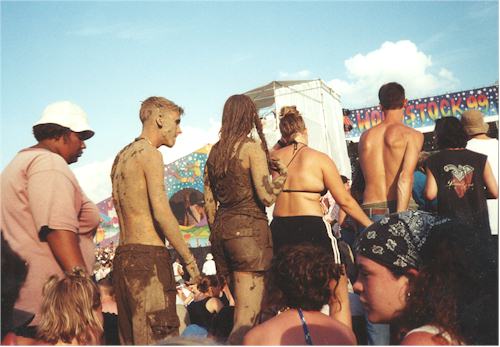 HAIKUS DE GRUNGE GIRL

woodstock warriors
left foot right foot left
through the july sun we march
to scream and launch trash

you can't always get what you want
funnel cake i want
air conditioned tent i want
clump of mud on chin i get

Human Hemp
stoned she's rooted there
human shrub on hot runway
sunned and soiled skin

Ode to Young Man on Trail
Korn-bound and shirtless
he commands, "flash your titties"
between slurps of Hamms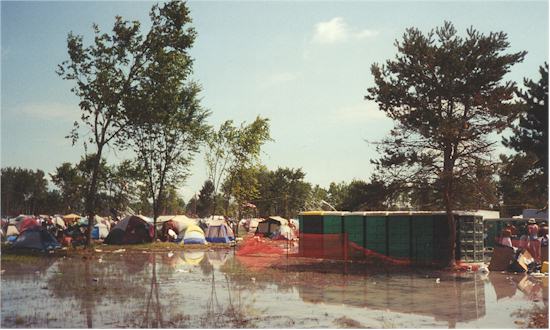 HAIKUS DE JULIE
Gritty Birkenstocks
Cross the muddy sewage stream
On a bridge of trash
Outraged vendor cries
"These kids are just animals!"
Live in shit, be shits
Handing out candles
To kids tearing down the wall
The world's worst idea?
Alanis, comfy
backstage? You oughta know my
Tent's flooded with shit
Dirt under my nails
I'm just as grimy as Jewel
Living in her van


20% MORE--A BONUS NON-HAIKU BY GRUNGE GIRL--ABSOLUTELY FREE!
O Canada
Four twenty-something in the morning
Whence comes a shouted warning:
"Shut the fuck up, you fucks!"
"Hey shit-nugget!"; "Canada sucks"
Careful replies
From our tent-village rise
As a tired camper sighs.
Patriot wearing red maple leaf
Must stand up for his belief
"Americans are fucks;
I hate you all", "Smuck the fup shuks!"
'Cross muddy ground
Late-night volleys of sound
Male Woodstock bonding abounds.


Read Ape Culture's more long-winded coverage of Woodstock '99
Can't get enough haikus? We've got heaps more here!
Were you there? Add your Woodstock haiku here.
Ape Culture and all associated pages are
ŠApe Culture 1998-2007 and evermore.