Velvet Revolver
The Roxy Theatre
Los Angeles, CA
May 10, 2004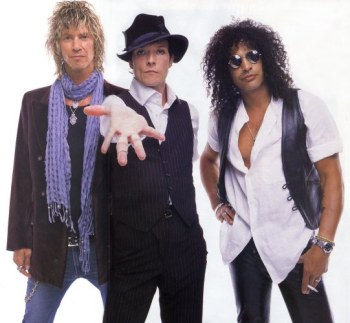 I thought Ticketmaster had burned me again. I logged on at 9:55am to prepare for the 10:00am onsale for Velvet Revolver's two shows at the Wiltern in June. I only wanted one ticket. I started refreshing at 9:59am, got in right at 10:00am, and already the floor section was sold out?!?! My attempts to refresh and try again were thwarted by "server busy" messages for the next few minutes and by the time I got through again both shows were totally sold out. That afternoon, I logged back in to check if additional shows had been added - sure enough, they had added one - for the next night - at the Roxy. It was going on sale in 30 minutes. This time the Ticketmaster gods smiled down on me and I got a ticket. I knew it would be much better to see them at this tiny venue (capacity 500) anyway.
I went to Velvet Revolver's website and saw this was to be a special "friends and family" gig and warm up for their first tour which kicks off later this week. Velvet Revolver is a "supergroup" (think Asia and "Heat of the Moment") composed of Scott Weiland (formerly of Stone Temple Pilots) and Duff McKagan, Slash, and Matt Sorum from Guns n' Roses, with Dave Kushner (formerly of Suicidal Tendencies). The band formed in 2003 and their first single, "Set Me Free", appeared on The Hulk soundtrack. They played a gig last June at the El Rey Theater in LA. Another rehab stint for Weiland delayed progress, but in April 2004, the band's new single "Slither" began to be played on KROQ. The single has generated a lot of buzz about their debut album Contraband, due to drop on June 8. I had never seen either STP or GNR so I was very excited to get this opportunity to see them up close and personal.
I arrived at the show around 8pm just as the doors were opening and I joined what I thought was a long will-call line, only to discover it was a line for people who didn't have tickets and were hoping the Roxy would release more tickets. I got my tickets and went inside, where staffers handed out free T-shirts made especially for this gig. I have to say I like this new trend of artists giving back, such as when Prince gave out the Musicology CD to everyone at his concert. I had a couple of drinks inside before getting into position near front and center in time for the opening band, Gosling. The club started filling up during their set, though nobody paid much attention. They were okay and I enjoyed their final song "Pancake Batter" the most. As they played, I noticed Ron Jeremy came in flanked by several ladies. He added just the right touch of Sunset Strip sleaze to help complete the collective mental transformation to 1990.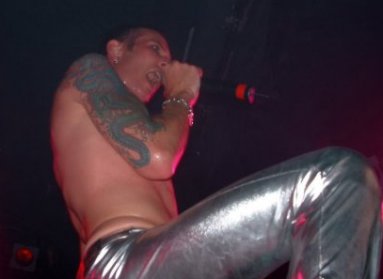 The Roxy started to get very hot as more and more friends, family, fans and record company worker bees packed the place. I held my ground toward the front. Finally, the band took the stage at 10:15pm. Slash wore his trademark top hat and Duff still had the same haircut and cut body. Weiland wore tight, lace-up silver lamé pants, a Nite Owl Diner T-shirt, and a Rob Halford-esque military hat. They kicked off the set with "Sucker Train Blues" a driving track off the new album and they continued with several new songs. Weiland was a hyperactive ball of energy and he threw himself into the waiting arms of the crowd during the first song. The band sounded extremely tight, especially considering this was their first real gig in about a year, and only second gig ever.
Weiland took off his hat and revealed a buzz cut. He also took off his shirt. He was thin, but not heroin-thin. He looked very fit. The whole band did. It didn't take Duff long to take off his shirt. It was bloody hot, after all. Weiland complained about the venue's lack of air conditioning and said the club was so hot it was "like an asshole - a nice, beautiful asshole." He was chatty and in good voice. I've always thought he has one of the better rock voices.
The crowd went nuts as Weiland announced he was going to play a classic Beach Boys number. Instead, the band tore into STP's "Crackerman." A wacky drunk guy behind me started crowd surfing, got onto the stage and leapt off. Nobody caught him but he got right back up, as he was feeling no pain. The house really rocked for the next song, GNR's classic "Mr. Brownstone." It sparked a major sing-along. I found myself thinking if Axl ever got his act together and reunited with these boys, the reunion tour would be fantastic. But that is not to take anything away from Weiland's powerful, personal rendition of the tune.
The next song was a new ballad, "Fall to Pieces," which Weiland dedicated to his wife Mary who was there in the crowd and had stood by him through his many bouts with drugs and the law. Slash spoke briefly to thank everyone for coming and introduced another new song, "Do it for the Kids," which he mistakenly called "Do it for the Kid." Wieland corrected him, "It's plural - kids!" The ever-eloquent Weiland introduced the song "Superhuman" by saying, "This is a song about fucking. Because everybody loves to fuck." The band played the new songs with a lot of energy and power, and Slash shredded his way through his solos. They closed the set with "Set Me Free."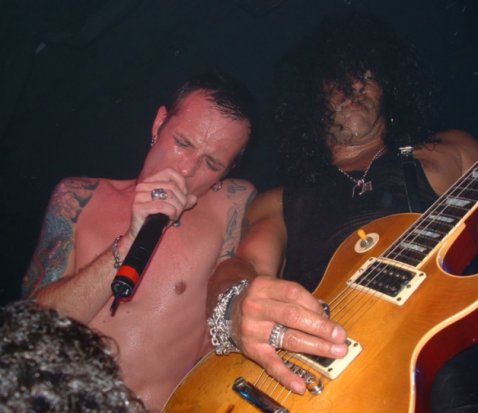 The crowd didn't cheer too hard for the encore and when the band took the stage Weiland mentioned that it was a lot more fun to play for fans rather than the press and record execs. The crowd quickly redeemed themselves by working themselves into a frenzy as the shirtless Duff, Weiland, Matt, and Slash (only Dave kept his shirt on) ripped through "Used to Love Her." Weiland borrowed an audience member's cowboy hat for this country-flavored GNR classic, but he made sure it was returned to the guy. Next they played STP's "Sex Type Thing" which sparked some moshing and more crowd surfing from the aforementioned bruised drunk guy, and they concluded the first encore with GNR's "It's So Easy."
For the second encore, they played the current single "Slither" and then concluded the show with a fast, punk rock style Nirvana cover - "Negative Creep."
I was soaked with sweat and happy to leave the sauna-like club. I left looking forward to purchasing Velvet Revolver's album and hoping to score tickets to one of the sold-out Wiltern shows. It was quite a thrill to see these icons up close, and I liked that they acknowledged their history by playing some of the classic songs from their previous incarnations, while applying their metal and grunge sensibilities to create new tunes. While many consider both genres to be passé, this band's powerhouse performance proves a hybrid grunge-metal cocktail can be quite tasty and refreshing.
Go here for more Ape Culture concert reviews
Velvet Revolver - Better than STP, GNR, and Asia? Discuss.

Ape Culture and all associated pages are
ŠApe Culture 1998-2007 and evermore.



Click here to learn about
the Ape editors' book
Check out the Ape Blog for the latest Ape Culture News and Reviews