Travis
with Rumanastone
Enmore Theatre
Sydney, Australia
July 27, 2000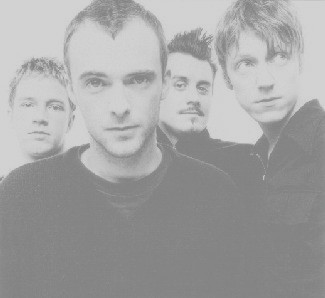 Going into this show I only knew Travis based on their reputation as critic's darlings and their single "Why Does It Always Rain On Me?" which has received heaps o' airplay here in Australia. I came out of the show and bought the CD the next day, so I guess that lets you know that these mellow indie boys made an impression on this particular punter.
Hailing from Scotland, Travis are touring Oz in support of their second album The Man Who which made it to Number One in the UK and has earned the band many accolades including BRIT awards for Best British Album and Best British Band. Their sound reminds me of Radiohead crossed with Beck on valium. Songwriter and lead singer Fran Healy spins melancholy, meditative tunes.
The Enmore Theatre was sold out for this show. We had floor tickets so we made our way to the front and stood a few rows back from the foot of the stage. Local band Rumanastone kicked things off. I had seen them a week before at a free outdoor concert so I was familiar with their stuff. They are a passable indie guitar rock band with a couple of catchy tunes, but I can't say they're particularly inspired. I mean, I saw them twice in two weeks and I can't tell you the title of one of their songs. The crowd was indifferent.
Travis came out and immediately impressed me with their songwriting and musicianship. Guitarist Andy Dunlop jumped around a lot. Bassist Dougie Payne smiled impishly and seemed a bit drunk, but maybe he was just high on life and on the crowd response. Drummer Neil Primrose looked a little bit metal with a shock of black spiky hair, and Fran radiated a quiet presence at centerstage. Highlights of the show for me and examples of Fran's best songwriting are the haunting "Driftwood," tapped to be the next single here, and "20" a song he said was about turning 20 and lamenting that he'd never be a teenager again. I think he's found a good way to remain a perennial teenager--playing in a rock 'n roll band.
I find Sydney crowds to be pretty sedate overall and this one was no different, listening intently but not really going ballistic until the single was played. Fran asked how the weather was and told us, "I hear it's pissing down rain out there" which was the truth. "Why does this always happen to us? I'm going to go call my mum and tell her I came to Australia and it was raining." Then they launched into "Why Does It Always Rain On Me?" which became a sing-a-long with the crowd getting rowdy and taking over the vocals. The crowd got stirred up again for the faster songs like "All I Wanna Do Is Rock" and "Happy" but the overall vibe was mellow.
Travis played for about an hour and a half, delivering polished versions of most of the songs from their two albums. During the four-song encore they played two excellent covers. They played a slow, acoustic version of the Britney Spears classic "Baby One More Time" which on first glance might have made the boys seem to be "taking the piss" (British/Aussie slang for "mocking") but I read in an interview that they really admire the song. And I have to say that thanks to Fran's passionate, slow-paced delivery, I really listened to the lyrics for the first time. He's right--as pop songs go, it's not half bad. Travis' rendition was much more tortured than that of the wee Miss Spears, I must say, and I think that helped. The other cover was "The Weight" by The Band. Fran advised that we all go rent The Last Waltz, Martin Scorsese's film about The Band and said that they were pretty much "The Band" as far as he was concerned.
Travis closed the show with "Happy" and one boisterous girl jumped up on stage and danced around. Security approached to drag her off but the band told them she could stay. And they all danced together and sent us out into the night with good moods that weren't going to be dampened by a little rain.
Read more of Ape Culture's concert reviews
Ape Culture and all associated pages are
ŠApe Culture 1998-2007 and evermore.