Talkin' with Elvis Down by the Sea:
Impersonators, Lookalikes and Walruses
We all share a secret desire for otherness, an expanded or richer self. At the New York Aquarium in Brooklyn, I am alternately a walrus, sea otter and a penguin. An "action leader" in a children's musical group, "Gigi and the Lend Me a Hand Band," I long to be a Supreme, wearing a beehive hairdo and sequin dress. That's my imagined shorthand for stardom, some vestige of late-60s glitz.
However, next to the Coney Island boardwalk, I am limited to leading children in sea-mammal-like moves. As a walrus, I watch as the audience eventually accepts me, a Disney-like character. That's when an alternate universe breaks open: In this one, you can dance along with a woman wearing paper tusks--or you can turn your attention to Elvis.
Elvis, born Michael Anthony LePore from "Brookalyno," is a thirty-something impersonator. Professionally known as Mike Memphis, he's enjoyed a thriving career in Bell Atlantic ads and as a guest on Sally Jesse Raphael. He got his Elvis calling at 14 when he first dyed his hair jet-black and then progressed to New York comedy clubs--working alongside Andrew Dice Clay, Richard Jeni and John Mulrooney.

(I am the walrus)
Author does the boogaloo.
Now, it's his turn to work the crowd. He announces to the crowd he is Elvis, "so yous don't think I'm some kinda psycho." A recognizable icon, Memphis embodies the pop idol who refuses to die. A funny and familiar sight, he provides this common platform that says there is only one King and we all know who he is (wink, wink). At the King's urging, everyone--Hasidim, Latinos, Blacks, Asians and Whites--gets up and boogaloos to our music.
Families smile giddily. Meeting a real star might leave you tongue-tied and sweaty--with an impersonator, you get all the thrills and no self-consciousness. Movie stars seem god-like, says mythologist Joseph Campbell. Onscreen, they are larger than life but in person, their presence is too much for our pea brains to accept, so we fumble and choke.
For my band-member husband and me, taking pictures with Memphis feels a social service (see photos). The poses, a deliberate exercise in American kitsch, are the closest we will ever get to the once and future King. Although we work four weekends with Memphis, we still yell excitedly, "Hey King!" or "E!" whenever we see him. We trade business cards and talk about visiting his regular Saturday-night gig at New York's Harley-Davidson Cafe.
According to Memphis, too many Elvises turn imitation into a way of life. "They walk the street with their hair done and shades on. That's nuts," he moans. "I hate it when people say, 'Did I see you in the Mall?' 'No, you did not,' I say. 'What you see at this event is work.'"
As an impersonator, Memphis can sing, sound and act like Elvis--as opposed to lookalikes who only need to resemble a celebrity. Memphis works regularly with lookalike Robert DeNiros, Joe Pescis, Tom Hankses, Willy Nelsons and Roseannes.
Wouldn't you love to call Paul McCartney to fix your sink? Usually surburbanites with day jobs, impersonators may be plumbers and electricians--such as one Beatle group from Connecticut. When your plumber arrives late, he can explain in cockney tones, "It's been a hard day's night, and I've been working like a dog."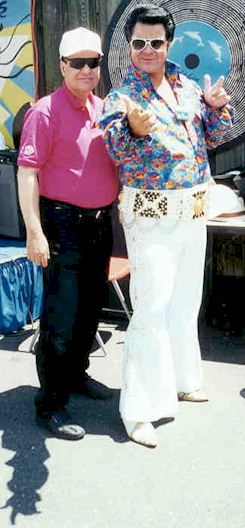 To right: standing in the shadow of a King, author shoots photo of husband,
Michael, with the King.
You also can turn a Bar Mitzvah into "Die Hard" by hiring a Bruce Willis lookalike. A Bruce clone I met from Boston says he does them "all the time." I try to imagine him there...what does he say to the 13-year-old? "I love ya, baby! Today you are a man!"
"You show up, do a few songs, take pictures with people," Memphis explains. After the party's over, he heads home. "I take a shower, relax," he says. "Read a magazine or newspaper."
Memphis is equally grounded when it comes to that great Elvis mecca, Las Vegas. "It's good for a week or two and then it's time to come home," he says. "People think, 'Oh, you go to Vegas, you're gonna make money.' How are you going to make money? Every Elvis that has ever lived has traveled out there."
Beyond making money, what's the appeal of inhabiting someone else? Impersonation lets a person interact with others without exposing his or her real self. Like Kabuki, the ancient Japanese theater, impersonators perform with exaggerated yet familiar formality, combining drama and predictability--a surefire way for plumbers and electricians to get out from under sinks and walls.
Impersonators assume an honorable role as much as Glenda Jackson might play Queen Elizabeth. Contrary to what you might think, they neither short-circuit the long road to fame nor bastardize the art of acting. How do you get the gestures, clothes and voice just right? Memphis paid a lot to get his authentic-looking white polyester pants and huge gold belt. For the aquarium, he wears a shirt with a gold fish pattern, which he points out with pride to onlookers.
In junior high, I could imitate Barbara Streisand and Mae West. What better people for an adolescent, dealing with questions of individuality and hormones, to impersonate? In this way, imitating someone can also channel repressed characteristics.
If I explore what my walrus impersonation signifies, I may throw myself over the sea wall. On second thought, maybe that's what I want, to get back to some natural state out in the Atlantic. Watching walruses hypnotizes me. I envy them, floating on their backs, spewing a playful stream of water in the air.
The Aquatic Show's triumphant end-theme song means it's time to perform. There's my cue. I am the walrus. And for 30 minutes, I am freed from the daily requirement to impersonate myself. I have the relief of a six-year-old who shouts, "I'll play the Tin Man" and then clanks along with Oscar-winning believability. To enter this mind-altered state, I will don paper tusks and dance, causing one aquarium employee to comment, "It takes guts to get up like that in front of all of Brooklyn!"
Late afternoon and the sun is still beating on the small asphalt park where we play. I look at Memphis as we leave. Seated on the edge of a low wall, he enjoys a dripping ice cream cone, a chocolate-and-vanilla twist. His hair, which he takes pains to blow out so high, is low now, top down, signaling he's back to his real self, ready to head home. I don't know what fantasy drives his career--it may be as simple as my stop-in-the-name-of-love vision, the rare spotlight and furious applause. Whatever it is, it's as personal as a heartbeat, one that quietly insists, "I count, I count, I count."
To hire Mike Memphis, call 1-212 -642-1197,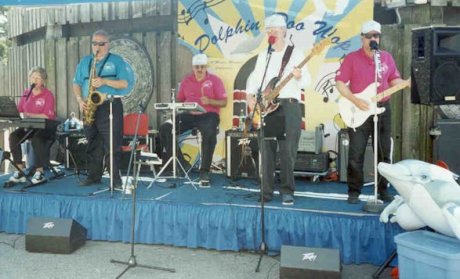 Gigi's band: Granny, Franny, 'Uncle' Paul, Cousin Guy, Daddy Larry & Uncle Mike

To hire Gigi and the Lend Me A Hand Band, e-mail gigilmahb@aol.com.
Ape Culture and all associated pages are
ŠApe Culture 1998-2007 and evermore.