The Killers
The Troubadour
Los Angeles, CA
August 28, 2004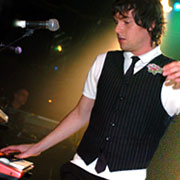 A couple of months ago, I was cruising down the freeway when I heard "Somebody Told Me" for the first time. I thought to myself, "What obscure 80s New Wave band is this? This song is catchier than Romeo Void's "Never Say Never", so why haven't I heard it before?" The DJ failed to identify the band, so I rushed home and typed the hilarious lyric "somebody told me that you have a boyfriend who looks like a girlfriend that I had in February of last year" and discovered it was not an 80s one-hit wonder, but rather, The Killers - a band unashamed to list Duran Duran as an influence. They take the best elements of the new wave and add their own distinctive elements to create a newer wave. I've been unable to get the song out of my head ever since, but I don't mind that a bit.
I imagined these lads were from the UK, but they actually hail from Las Vegas. They did, however, first get signed by a UK label and built a following overseas before taking on the States. They took their name from a band mentioned in a New Order song --again, coming clean with influences that some would consider cheesy. I'm excited to have The Killers bringing danceable indie pop on the radio again. Their debut album, Hot Fuss, is full of catchy tracks, quirky lyrics, and haunting and distinctive synth and bass lines. Their first LA club show (at least since they broke through on the KROQ airwaves) sold out instantly, and I was one of the many left clicking on ticketmaster.com in vain. Fortunately for me, they added a 2nd show at the same venue for the same night - a midnight show.
This was my first time to the legendary Troubadour, site of such legendary events as the meeting of Cher and Gregg Allman. Think of it, if not for the Troubadour, Cher and Gregg may never have gotten together. There would be no Elijah Blue Allman and no Deadsy! Nicole Richie wouldn't have a celebrity obsession! The world would surely be a poorer place.
When I arrived at 11:30pm, the line to get in stretched around the block. By the time I got in, I had to stand rather toward the back, but the club was so small, I still had a good view. A DJ played some brit pop to get us warmed up, and then the lights went out. Legendary KROQ DJ and documentary star Rodney Bingenheimer introduced the band to the delight of the hipsters in the crowd. Their intro theme was the catchy and kitschy "Can't Take My Eyes Off You" by Andy Williams, a tune you'd expect to hear in a lounge in their hometown and a song choice that at first bewildered the crowd but soon had them giddily singing along.
The band took the stage to thunderous applause and kicked off their set with several songs off Hot Fuss including "Andy, You're a Star" and "Smile Like You Mean It." The rabid crowd of hipsters knew every word and sang along. Frontman Brandon Flowers didn't say much, rather he concentrated on playing the keyboard and putting a lot of passion into delivering his lyrics, although he was singing them for the second time that evening. He's very watchable, mixing the melancholy of Morrissey with the swagger of Simon Le Bon and the deadpan humor of Devo.
I found myself often watching drummer Ronnie Vannucci who had a unique, hyper drumming style that led to unexpected dance beats. Guitarist Dave Keuning looked like he would fit in more with The Strokes but played expertly, as did bassist Mark Stoermer.
A highlight of the 50-minute set was "All These Things I've Done" with its anthemic but silly refrain "I've got soul but I'm not a soldier," which the crowd gleefully chanted. The band played several tracks that weren't on their debut album including the catchy "Indie Rock and Roll", declaring their musical preferences in the tradition of Joan Jett's "I Love Rock and Roll" or Bob Seger's "Old Time Rock and Roll". The band closed their set with their big hit "Somebody Told Me," and the house was a-rockin'.
After a brief respite, The Killers returned for an encore. They played "Jenny Was a Friend of Mine," the first song on their album. I love the infectious bass line of this song, and it was really thumping live. They closed the show with their new single, the excellent pop tune "Mr. Brightside," a tale of paranoia and cheating lovers. Though their lyrics are often sad and brooding, the energetic drum sounds and lilting synth effects are uplifting, creating a bipolar mood.
I left wanting more, but realizing they must have played every song on their album plus a couple of extras. I look forward to hearing more from The Killers, as they continue to meld Vegas glitz with British pop and new wave sensibilities.
Visit the official The Killers website
Read more Ape Culture concert reviews
What do you think of The Killers? Add your comments here.
Ape Culture and all associated pages are
ŠApe Culture 1998-2007 and evermore.