The Charlie Daniels Band
with Drive By Truckers
Central Park Summerstage
New York, NY
August 3, 2002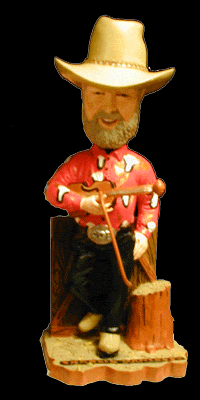 We went for one song. We went because it was free. We went for kitsch and nostalgia, but also because we expected that Charlie Daniels would put on one heckuva show. He did. We had to endure a whole lotta preachin' but were rewarded with mighty fine fiddlin'.
We arrived an hour early and found a spot in the semi-shade. With temperatures in the 90s, we were forced to down water instead of beer. We watched the crowd file in—some authentic-looking southern rock fans, lots of college kids wearing thrift-store-bought redneck clothes (work shirts and mesh caps).
Drive By Truckers kicked off the show and quickly made me a fan. I'd read some good reviews and found that their revved-up Southern rock pleased me nearly as much as playing the Allman Brothers' "Midnight Rider" and Lynyrd Skynyrd's "Gimme Three Steps" on a dive bar jukebox. The Truckers have earned rave reviews for their ambitious double-CD "Southern Rock Opera" and their play list largely came from that release. The album is a tribute to their heroes, the aforementioned Skynyrd, and reveals a band with a clear sense of where they came from (duh…the South) and how they can put their own spin on the style of music they grew up with. Their lyrics showed humor and observational wisdom. Their songs about highways to nowhere, drinking beer, and working in factories rang authentic, while their more creative tunes show a band exploring their Southern identity, such as "Wallace" which describes George Wallace's likely descent into hell. The band's three-guitar assault got the crowd moving, but unfortunately the Summerstage promoters kept the volume too low, much to the band's and the crowd's frustration. My favorite song "Let There Be Rock" told the story of a man looking back on his concert-going past, "I never saw Lynyrd Skynyrd but I sure saw Molly Hatchet with 38 Special and the Johnny Van Zant Band." All their details were right on. I look forward to seeing the Drive By Truckers in a venue where they can really cut loose.
The Charlie Daniels Band took the stage to rousing cheers from the good-sized crowd. When I saw the portly Charlie in his long-sleeved patterned Western shirt, jeans, and huge belt buckle, I immediately began to worry that he might have a heart attack in the heat. I put my worries aside and proceeded to have a boot-scootin' good time as Charlie led his band through his catalog of country hits. Not being a country fan, I didn't know any of his songs besides his blockbuster hit "The Devil Went Down to Georgia," and I knew I'd have to wait until the end of the show for that one. Still, I enjoyed such ditties as "El Toreador" and "Long Haired Country Boy." Charlie proved himself quite generous, turning the microphone over to several band mates and allowing them to sing songs they'd written. He stated that the band had been playing together for 30 years, and the band proved itself to be an impressive unit as they mixed Southern rock, country, and blues throughout their hour-and-a-half-long set.
It didn't take Charlie long to get into his right-wing politics. He said that he took pride in being politically incorrect and, after expressing his outrage over September 11, roused the crowd with a rendition of "This Ain't No Rag, It's a Flag." Someone in front of the stage waved a giant flag to the beat of the song as Charlie belted out lyrics like "This ain't no rag, it's a flag, and we don't wear it on our heads. It's a symbol of the land where the good guys live. Are you listening to what I said?" He followed that tune up with "The Last Fallen Hero," a tribute to fire fighters and police officers who perished on September 11. I expect Charlie has always bled red, white, and blue, but now his uber-patriotism roused even the most cynical New Yorkers.
Charlie's new album is called "Redneck Fiddlin' Man" and that about sums him up. One wonders if his home-spun Southern shtick is his true persona or a carefully-crafted act to please his audience, especially when he lays it on thick in songs like "Simple Man" where he sings, "We tell our kids to just say, 'No.' And then some panty waist judge lets the drug dealer go, slaps him on the wrist, and he turns him back out on the town. Well if I had my way with people selling dope, take a big tall tree and a short piece of rope. I'd hang him up high and let him swing 'till the sun goes down." This ode to capital punishment made me cringe and reminded me why I moved from the midwest. Sometimes his lyrics are so clichéd you'd think you were hearing a Saturday Night Live parody of a country song. Charlie truly believes that God agrees with him, as his references to the good book as well as a dramatic rendition of "How Great Thou Art" attested.
We suffered through all this preaching, feeling a bit like prisoners. We were covered in sweat from 3 hours in the intense heat and there was no way we were going to leave without hearing that song about the devil and the gold fiddle. Charlie knew why we were there, and he would give us the song that he's built a career around, but first he would make us endure many lectures on his politics that were disguised as songs. A glance at Charlie's official website reveals an entire section called "Soapbox" which features Charlie's viewpoints on such topics as child abductions, the treatment of captured terrorists at Guantanamo Bay, and baseball players demanding higher salaries. Fortunately, Charlie's strong voice and impressive fiddling balanced out his right-wing politics. And he did sing a tribute song to Nascar—who could dislike that?
Finally, Charlie came out for an encore and rewarded our patience with a fiery rendition of "The Devil Went Down to Georgia." We danced around like possessed maniacs, glad we'd come and feeling well-entertained. Unfortunately, Charlie couldn't even deliver this classic tune without adding a cautionary lesson. Warning the crowd not to try this at home, he said "You can't beat the devil without the Lord." That's good to know. The next time the devil appears and challenges me to a fiddling contest where I'll have to risk my soul in order to win a gold fiddle, I'll know what to do.
The Charlie Daniels Band official website - go there to buy the Charlie Daniels bobblehead pictured at the top of this page!
A fan page for The Charlie Daniels Band
The Drive By Truckers official website
Read more of Ape Culture's concert reviews.
Post a comment about Charlie Daniels or The Drive By Truckers.
Ape Culture and all associated pages are
ŠApe Culture 1998-2007 and evermore.