Deconstructing Cash II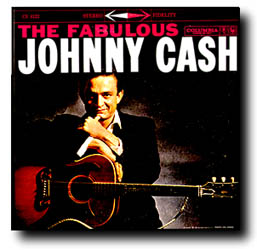 After Johnny Cash dies, Ape-Editor, Mary Ladd interviews her father, Dave, a Johnny Cash fan from the very beginning to find out what being a Johnny Cash fan from the very beginning was all about.
Mary: When did you first hear of Johnny Cash?
Dad Dave: Probably on the radio or jukeboxes.
Mary: Did you hear his first hits? Or what songs do you remember hearing first?
Dad Dave: Well, he had a lot of songs that were popular in just a few years... like "I Walk the Line" and "Folsom Prison Blues".
Mary: Who else was popular then?
Dad Dave: It seems in country music (not that he fit in that mold too well), there were people like Hank Thompson, Lefty Frizzell, Ernest Tubb, and Hank Snow.
Mary: He didn't fit any mold…Is this what made him different? Or was he clearly a western artist.
Dad Dave: Not really. He did a lot of different things that made him hard to categorize... like "Ballad of a Teen Age Queen" I think it was and a lot of gospel stuff. His sound was different also ... for a long time he only had an electric guitar and a bass player (the Tennesse Two they were called). His signature sound was Luther Perkins on the electric. He was recognizable for sure in most of his stuff. I think he wrote most of his own songs in the early days so the lyrics were different, but the sound was kind of the same. You could usually tell what was coming on the radio when you heard the lead in.
Mary: What were his live shows like?
Dad Dave: There was a different approach for tours in the 50's and 60's... no big productions - probably because there were no big venues.
Mary: When did you see him?
Dad Dave: Your mom and I saw him in Coquille, Oregon probably in 1957 or 1958 and then at the New Mexico state fair in the early 70's.
Mary: How were the shows different?
Dad Dave: Well, in the 1958 show, it was him, Luther and his bass player. He did his hits while people danced on the auditorium floor... there were no seats or tables. At the fair, he had a big production and instead of a few hundred there were 10,000 in the audience. That was when "A Boy Named Sue" was popular. He did it at the end and brought the house down. We went with our friends Joe and Coralee to the Caravan East quite a bit also... saw Lefty Frizzell there (he was too drunk to perform) and several other western stars of the times. Glenn Cambell started out in a club in the canyon as you may know.
Mary: No. What canyon?
Dad Dave: Tejeras. I remember we saw Earnest Tubb at the Caravan with Joe and Coralee and Earnest would say when he finished a verse "Aww Leon" or "Aww Buddy" and they would play a solo and Joe and I would bet over which one it would be next. There were only about five in the band. Then after the solo, he would sing the next verse and chorus.
Mary: What was Lefty famous for?
Dad Dave: Lefty sang a lot of tear-jerker type songs... I can't recall any at the moment but for a long time he was my favorite western singer... he had a very unique voice. If you ever hear Randy Travis that's what Lefty sounded like. I liked "Saginaw Michigan", "Long Black Veil", and "If You Got the Money (I Got the Time)".
Mary: You used to say Johnny Cash didn't sing...he talk-sang, was a storyteller more than a singer.
Dad Dave: I think so. I think the ones he wrote kind of fit a pattern. He did a lot of other people stuff later and made it more popular than the original so it's hard to remember what he wrote or what he just sang. Do you remember a song (actually he recited) called "Mean as Hell"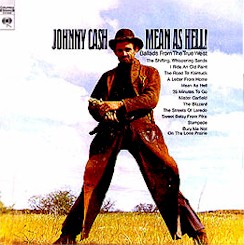 Mary: I have your old Mean As Hell record album, as a matter of fact. I love that album. I used to listen to it all the time when I was little...that album had "Mr. Garfield" and "25 Minutes to Go."
Dad Dave: That one was good... how much do you suppose he wrote?
Mary: (looking at the jacket) This Mean as Hell album says it is "Ballads from the True West". He wrote "Mean as Hell." Guess who wrote "25 Minutes to Go"?
Dad Dave: Who? Is "Wanted man" on there also?
Mary: "Wanted Man" is from the San Quentin album. Shel Silverstein wrote "25 Minutes to Go"- he wrote "A Boy Named Sue." He was that folk song writer and children's book writer.
Dad Dave: That's a surprise. Shel was also a cartoonist for Playboy magazine.
Mary: Shel was a multi-tasker.
Dad Dave: And good at them all apparently.
Mary: This album has a lot of old westerns: "Streets of Laredo", "Sweet Betsy from Pike", "Bury Me Not on the Lone Prairie". I like "Mean as Hell"....it's about God giving Texas to the devil because it was as hot and mean as hell?
Dad Dave: They made a deal but what was the reason... was it because the devil had no place to live or something like that?
Mary: I can't remember now...let me look up the lyrics online. I just emailed you the lyrics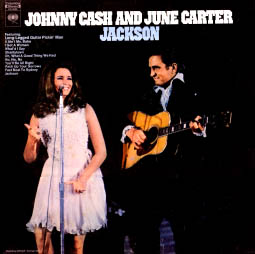 Dad Dave: Do you have one called "Jackson"?... I think June Carter wrote that one for him.
Mary: No...but I like that one. Isn't that about a marriage gone bad? They sang that as a duet.
Dad Dave: Well the song goes "their love was hotter than a pepper sprout but then the fire went out..."
Mary: "Goin' to Jackson. Gonna mess around." June co-wrote "Ring of Fire." Billy Ed Wheeler & Gaby Rogers wrote "Jackson".
Dad Dave: She co-wrote it with him?
Mary: No...she co wrote it with M. Kilgore. That song had those great horns.
Dad Dave: Hmm... but it must have been for him. Yes, it had a Mexican sound.
Mary: Maybe. They were falling in love then but they were both married to other people…or maybe that's what he wrote "I Walk the Line" about.
Dad Dave: I thought "I Walk the Line" was being faithful.
Mary: Maybe it's really about being unfaithful. Maybe it's about walking the line toward the bad side.
Dad Dave: Nooo! I'm disillusioned now.
Mary: Did you know "Ghost Riders in the Sky"?
Dad Dave: Yes, but I thought "Ghost Riders" was originally a Frankie Lane song. You remember the TV show Rawhide? Frankie Lane did that song also.
Mary: Frankie doesn't sound like a tough country singer name.
Dad Dave: He was more pop of the time.
Mary: Did you watch the Johnny Cash variety show?
Dad Dave: Not that I remember... we may have been into folk by then... Kingston Trio and the like.
Mary: Was that mom's influence? All those Ray Connif albums you had?
Dad Dave: Those were mom for sure. Mom was never a listener of lyrics and so didn't appreciate western and folk much.
Mary: How does Johnny Cash rank among American Pop/Western/Country singers, do you think?
Dad Dave: I don't think he was at the top of any of those categories but near the top in all of them. In movies he was awful, kind of like Willie Nelson.
Mary: Bad actor?
Dad Dave: Acting is not their cup of tea. I heard a girl sing on MTV with Willie the other day. Her name was Norah Jones... have you heard her?
Mary: Yeah...she had a huge hit CD last year.
Dad Dave: I thought the one she does with Willie is good... is she country western?
Mary: no...she's on a jazz label. She's kind of torch/jazz. Piano mostly.
Dad Dave: Why would she do anything with Willie?
Mary: She's huge right now...everyone loves her. Do you want to hear my copy?
Dad Dave: Send me it if you can... I thought she had a really good sound.
Mary: Back to Johnny Cash, I recently read someone say the reason Johnny Cash was so great was because he had "True Grit"....what do you think they meant by that?
Dad Dave: Well, from the John Wayne movie True Grit I would say he was not afraid of anything. He was probably a musical risk taker and wasn't entirely driven by the commercial aspects of things.
Mary: He was his own man...that's rare these days.
Dad Dave: He probably was. I guess you can have grit without having true grit... not sure what that would be. Is there a false grit?
Mary: Maybe false grit is a poser…like so many tough-guy singers who are just an industry package.
Dad Dave: Ahh, that's it, a fake.
Mary: Some people play tough but don't have the stamina to back it up.
Dad Dave: Like George Bush has false grit.
Mary: Yes…surely. A plastic cowboy. Okay, one last question: they say Cash was larger than life, had kind of a grand stature - what was it about him physically?
Dad Dave: He had a kind of dark image with the prison songs and the "man in black" persona. I think he was larger than life because he crossed into so many different areas and picked up fans in each of them.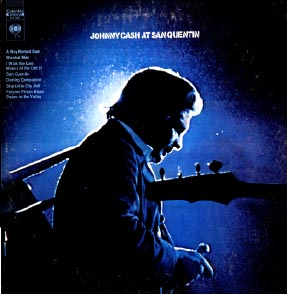 Read Deconstructing Cash
Read Mary's childhood memories of the Mean As Hell album
Do you have any comments about the accuracy of this Cash Deconstruction?
Ape Culture and all associated pages are
ŠApe Culture 1998-2007 and evermore.