Beck
Fukuoka Community Center
Fukuoka, Japan
April 15, 1999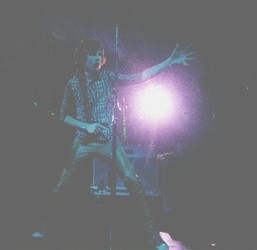 I must apologize in advance for the lackluster review of this show, but having just seen The Beastie Boys put on an awesome show a couple months ago - I had some high expectations. Don't get me wrong, I enjoyed this show, but there seemed to be something missing. I know it's a mistake to even try to compare Beasties with Beck - but when you see as few shows as I do, that's a hard thing to avoid. I also made the mistake of reading a review of Beck's Tokyo show a couple nights before. This reviewer had nothing nice to say and perhaps it colored my opinion a tad bit.
Like the Beasties show, this concert took place in the great great city of Fukuoka. The concert happened to be on the same day as a conference in Nagasaki City for all the English teachers. The conference was also continuing on to the next day, so we had to be back that night. Transportation was not a problem, owing to frequent, FAST, trains and buses at all times of the day. However, we had to be on the train by 5:00 PM, and the conference was scheduled to last until 4:30 PM. Since this left very little time to get from the meeting to the train station, we were incredibly unprofessional and ditched the meeting a half an hour early. We ended up waiting many many minutes for the street car, then we took an incredibly expensive express train and arrived at the concert hall without incident.
This show was being held at a community center concert hall. Oh, the glamour. The facility was pretty big, accommodating a thousand or more, two stories. We were up in the balcony as we discovered after some confusion that could have been avoided had one of us been able to read the Japanese on our tickets better. The concert was beginning just as we walked in (no opening act for this show, which is typical for Japan). It was pretty surreal - almost as if Beck was just waiting for us to show up. There was pandemonium in the concert hall, but no group pogo-ing at this show. Beck played just about every mellow song he's ever written, mostly from his latest album. About half an hour into the show, my friends and I sat down in our chairs. Not that it was bad, because it wasn't - but I just wasn't feeling any groove. Beck did perform lovely renditions of "Nobody's Fault But My Own" and "Bottle of Blues" that we all enjoyed whilst seated. One highlight: in between songs Beck would take out a piece of paper and read some wacky phrase in very, very bad Japanese, like "I've got flowers in my pants" and "Maybe you are all beautiful" and my personal favorite "I smell like a tree". I think some Japanese person must have played a joke on him and told him that if he said this stuff, everyone would really think it was great in a JFK-"Ich bin ein Berliner" sorta way.
After a break that lasted EXACTLY ten minutes, Beck came back onstage in a new outfit with a new attitude. He played some way more energetic stuff, including "Devil's Haircut," "New Pollution," and one of my favorites of the night, "Tropicali." Now the man was dancing and showing us his stuff. His enthusiasm got us all out of our chairs and we shook our things. The way Beck dances reminds me of myself at 14 when I used to blast the Thompson Twins and boogie in front of the mirror pretending to be the fourth member of the band. There were distinct moments of James Brown and Mick Jagger that night. Beck seemed to be mocking his own music, which made the music that much more entertaining. The audience enjoyed themselves wholeheartedly, although not nearly with the wackiness of the Beastie Boys audience. The audience still went typically silent in between songs, but that awkward silence was broken up by Beck's hilarious attempts at Japanese.
After one encore, which barely elicited any audience hootin' and hollerin', Beck left the stage and that was it. My friends and I all felt there should have been more, but the lights came on and the rest of the audience dutifully filed out of the concert hall. An amazing thing to experience, I must say - no jeering or booing or "awww"-ing or anything like that. So, we all joined the mass exodus, went for some ramen and got on the bus back to Nagasaki. We were home by midnight, just in time to join the other gaijin teachers whoopin' it up. It was like we never left.
Read more of Ape Culture's concert reviews
Ape Culture and all associated pages are
ŠApe Culture 1998-2007 and evermore.



Click here to learn about
the Ape editors' book
Check out the Ape Blog for the latest Ape Culture News and Reviews