Beastie Boys

Festival Hall
Melbourne, Australia
February 2, 2005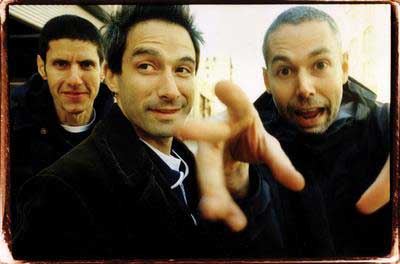 "Is it Melburn or Melborn, like giving birth?"
This must be a running joke by now for Beastie Boy Mike D. At the same venue in 1994, he used exactly the same gag to wind up the crowd.
"So it's Melborn then?", he repeated, bug-eyed.

After all these years, life still seems to be one big in-joke for the Beastie Boys. And, despite braving the worst storm in a century to get there, the fans inside the hall seemed more than happy to play along.

In a venue equally famed for The Beatles' 1964 concert appearance as much as its boxing arena past, the New York group mixed vaudevillian stage tricks with comedy, hip hop, and brylcreemed Vegas swagger, proving they've lost none of their prankster spirit.

Later instigating another joke about a fictitious "Melbourne's Club", Mike D warmed to the role of ringmaster for the evening. While Ad Rock opined that they might run into Alicia Keys or Beyonce there, MCA watched on like a bemused elder sibling. The man that stretches the "Boy" tag to its limit didn't offer many words all night, though he did comment on the city's Vietnamese restaurants…

As Mixmaster Mike placed his opening record on the slipmat, he looked slightly nervous in contrast to the role he'd just played. Before his onstage entrance, the hall's overhead video screen had crackled into life, showing the opening scene from Mission Impossible 2. When Mike's face appeared, crudely superimposed on Tom Cruise's, the crowd hollered in anticipation.

Minutes before, a video camera had followed the DJ as he stalked the backstage labyrinth, gun in hand. When he paused outside a door marked "Beastie Boys", the crowd response must have been audible backstage. Kicking the door open, the camera followed him into a room that indeed contained the trio, seated at a table with ridiculously long and presumably fake lines of coke scratched out on a giant horizontal mirror. While they waved their arms and feigned incredulity, Mike shot at "Ad Rock's secret cabinet" to open it and retrieve his record. The camera then followed him back out of the room and through more corridors onto the stage, the crowd roaring even louder.

Dropping "Body Movin'" as the first track, the group ran through an impeccably chosen set list. While previous tours have seen them eschew certain sections of their back catalogue, tonight it was open season on everything.

Usually starting out with the original instrumental track, Mixmaster Mike soon swapped those for whatever took his liking. Throwing in music from DMX and Public Enemy among other classic breaks, he raided the hip hop canon with glee.

There were a couple impromptu lines from "Netty's Girl" to satisfy a particularly vocal crowd request from near the stage, as well as material from every album. We got an amped-up version of their now-classic "Shake Your Rump" (Mike D enlisting the crowd to yell the "Oowah-oowahs"), "An Open Letter to NYC" (getting a few fists pumping during its key lines), and "Brass Monkey", preceded by a "They're gonna lose it if you play that record" warning from Ad Rock – and we did.

"No Sleep Till Brooklyn" saw mad pogo-ing ensue across the floor, while DJ Mike juggled beats and still managed to call each MC's turn to rock the "Sure Shot".

"Pass The Mic", "Right Right Now Now", "Skills to Pay The Bills", "Ch-Check It Out": they just kept coming. On "The New Style", Ad Rock held his "Mmm drop" line so long, the crowd kept butting in until he finally obliged them with it.

"Three MCs and One DJ" let the MCs justifiably pay respect to their amazing turntablist, complete with their vaguely pyramid-like formation at the start. In all, they ran through more than twenty tracks in the two-hour show.

The break from bouncing hip hop to their live-with-real-instruments set was achieved with some theatricality. After a Mixmaster Mike segue, the Beastie Boys' full band swung around from behind the DJ booth on a mobile stage until they faced the audience. Decked out in blue tuxedos, they proved that once the arthritis hits, they'll be well prepared for the Bar mitzvah and Vegas circuit.

Moving through an extended version of "Lighten Up", and an ethereal "Something's Got to Give", they also worked in instrumentals compiled on their money makin' stop-gap "The In Sound From Way Out!"

"Yes, it's Burberry," Ad Rock confirmed when asked what he was mopping his brow with. But "The Kid" was soon back in his Beastie Boys T-shirt and tracksuit pants after downing his guitar.

Besides the usual live concert footage, the big screens also featured videos of fans that had been hanging around the venue prior to the gig, as well as the kind of hilarious email videos that circulate the Internet; cats apparently kung-fu fighting, wanna-be Ninjas almost knocking themselves out, and other Funniest Home Video-style grabs.

At one point after yet another Mixmaster Mike solo spot, the freshly changed B-Boys surprised everyone by launching into "Intergalactic" from stage crates around the mixing desk at the back of the venue. The fans in the balcony's nosebleed seats were thrilled, if a little stunned that they suddenly had the best seats in the house.

Back on the main stage for the final time, MCA prolonged the fuzz-bass intro to "Sabotage" just long enough for the crowd to start getting antsy, before ripping into their signature concert closer. When the audience finally stopped bouncing, there was a final "Thank you" from Ad Rock and Mike D, and a farewell wave from Mixmaster Mike. The lights in the hall came on and the crowd spilled onto streets awash with rain from the worst storm in the city's history.

So is it "Melburn", or "Melborn"?
When they perform like this, does it really even matter?




SET LIST (not in exact order)

BODY MOVIN'
TRIPLE TROUBLE
SHAKE YOUR RUMP
SUPER DISCO BREAKIN'
THREE MCs AND ONE DJ
THE NEW STYLE
PASS THE MIC
RIGHT RIGHT NOW NOW
SKILLS TO PAY THE BILLS
CH-CHECK IT OUT
SO WHAT'CHA WANT
SABROSA
RICKY'S THEME
LIGHTEN UP
SOMETHING'S GOT TO GIVE
AN OPEN LETTER TO NYC
SURE SHOT
BRASS MONKEY
ALIVE
ROOT DOWN
NO SLEEP TILL BROOKLYN
INTERGALACTIC
SABOTAGE



Check out the official Beasties site
Read more of Ape Culture's concert reviews including a 1999 review of Beastie Boys in Japan
Post a comment about The Beastie Boys.
Ape Culture and all associated pages are
ŠApe Culture 1998-2007 and evermore.



Click here to learn about
the Ape editors' book
Check out the Ape Blog for the latest Ape Culture News and Reviews