Aerosmith Live!
Or, In My Next Life I Want To Be Steven Tyler's Harmonica
Jones Beach Amphitheater
June 20, 2001

By Grace Hackett
Multi-colored scarves
Intertwined on his mike stand
Wishing it were me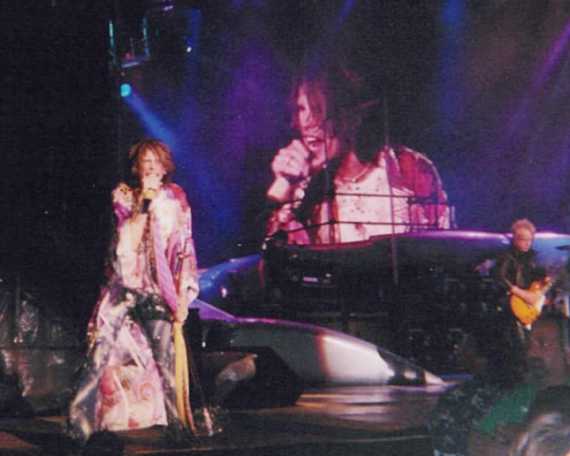 As I drove along the Wantagh Parkway to strains of "Just Push Play" (fuckin' A!) on my way to see Aerosmith at Jones Beach Amphitheater, I could feel my heart pounding with excitement. I've been a huge fan since 1975, the year that Toys came out; picture a 13 year old Catholic grammar school girl rockin' to "Sweet Emotion," but I digress. I didn't know where Julie and I would be sitting as I was to pick up my tix from "will call." You see my friend Carla Dragotti, Cheap Trick's manager, got the tickets for me. The scare of the night was when I went to "will call," and they didn't have my tickets. More heart pounding! Well, folks, the tickets were at the VIP tent. Thanks to Carla, we sat in the 12th row orchestra--just a few feet from Steven and Joe!
Fuel opened the show and while they were good, they knew that the crowd was just waiting for the Boys from Boston. They showed a lot of energy and their singer, Brett Scallions, (pictured at right) worked hard to try to get the small crowd in a rockin' mood. Unfortunately for Fuel, most folks were still tailgating during their set.
The anticipation was building, and at this point I thought my heart was going to completely burst out of my chest. But when the lights went up, my minor myocardial was worth it! And while NOTHING beats starting an Aerosmith show with "Back in the Saddle," the show began with a thumping rendition of "Beyond Beautiful" off their latest album Just Push Play, the first of 5 songs played from the CD. That was just the beginning of this old timer's singing, dancing and screaming with the band. Next was "Love in an Elevator"; this was the beginning of the incident I refer to as "The Bimbo versus The Bouncer." (What is it about Julie and I attending a concert together--is it the alignment of the planets or just coincidence that all of the wackos come out of the woodwork?!) This Bimbo decides that she is going to get Steven Tyler's attention no matter what; the bouncer decides that this is not the case (said Bimbo accuses him of not letting her near the stage because she was mammary-challenged). Her endless gyrating was amusing but inspired me to exclaim, "GET A GRIP!"
Next was the new album's single "Jaded"--not a bad song but the next song they played, "Just Push Play," is totally kick ass. This suburban mom showed her true nature . . . "Last Child" . . . just a punk in the street . . . this began my downward spiral into complete frenzy. So many old songs were played that night. Now don't get me wrong. I've stuck by this band through it all - the Sgt. Pepper movie, Night in the Ruts, Done with Mirrors, Nine Lives --and some pretty great songs have come along the way ("Janie's Got A Gun," "Young Lust") but nothing tops the classics like "Seasons of Wither" (done to perfection), "Walk this Way," and "Train Kept A Rollin'" (one of the 4 encores). I would have loved to have heard "Angel's Eye" but had to settle for "I Don't Want To Miss a Thing."
Steven and his technicolor dream coat went from one side of the stage to the other and down the catwalk much to the delight of his many female fans. Yummy! He sang with Joe Perry about 10 feet away from me and it took every ounce of my 39 year old mommyness to contain myself and not rush the stage (after all, I have an image to protect with the PTA). We got to sing "Happy Birthday" to drummer Joey Kramer (1 day early) and word has it that N'Sync were watching from backstage (yeah, like I care).
The moment of truth came when Steven threw his harmonica into the audience. Damn if he didn't hurl it from the opposite side of the stage from where I was sitting. So there I sat pondering if I should hunt down the unworthy 18 year old harlot who stole my Steven's harmonica!!!!!!!!!!!!!!!!!!!!!!!!! (Ok, I'll calm down.) By the time the encore was over ("What It Takes," "Livin' On The Edge," "Train Kept A Rollin'," and "I'm Down") I was drenched with sweat, hoarse, and deaf. It was worth every second.
SET LIST
Beyond Beautiful
Love In An Elevator
Jaded
Just Push Play
Last Child
Fly Away From Here
Pink
Mama Kin
Dream On
Rattlesnake Shake
Under My Skin
Seasons Of Wither
Same Old Song And Dance
I Don't Want To Miss A Thing
Cryin'
Mother Popcorn/Walk This Way
Uncle Salty/Sweet Emotion
(((ENCORE)))
What It Takes
Livin' On The Edge
Train Kept A Rollin'
I'm Down
Read Heavy Metal Haiku - including an Aerosmith haiku
Visit the official Aerosmith website
Check out Ape Culture's other concert reviews
Seen Aerosmith live? Add your review here.
Ape Culture and all associated pages are
ŠApe Culture 1998-2007 and evermore.