Suburbia's Sistine Chapel

Below we have a photographic reconstruction of Julie Wiskirchen's teenage room's ceiling collage. This lost masterpiece is shown in its final stages before it was viciously torn down and destroyed by a post-college, ennui-filled Julie in June of 1994. The ceiling collage saw its genesis after the artist lamented to her uncle that she had covered all the walls in her room with pictures. "Why not start on the ceiling?" he suggested. These photos and a few rolled-up posters are all that remain of this artistic achievement that would have made Michelangelo weep.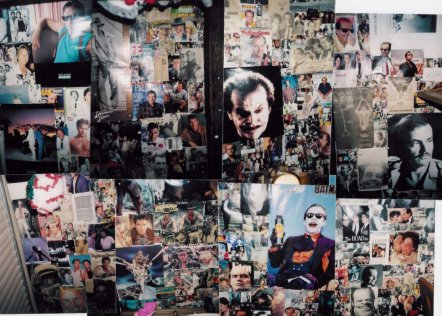 Click on the picture for a larger scale view of this masterpiece.
The ceiling was neatly divided into 4 panels by faux wood beams. The oldest panel is panel 2, entitled "Harrison Ford." Construction began on this panel in 1984 and was completed in 1986. Pictures of Harrison were hard to come by until his popularity blossomed with the Indiana Jones films. The repetitive use of fedoras reflects this cinematic trend. The rarest item in panel 2 is the Star Wars poster in the lower left corner of the panel, a promotion from Burger King. Of course, it's no longer valuable due to thumbtack holes.
Panel 1, or "Don Johnson", was created during Miami Vice mania in 1985. The least interesting of the panels, this one was slapped together quickly from posters purchased at Spencer's Gifts and pin-ups from several Miami Vice collectors' magazines. Of special note is the 16 Magazine centerfold depicting the shirtless Don (mid-panel, next to the poster of Crockett and Tubbs with guns). The lower half of this centerfold featured Don Johnson's oiled stomach and the top button of his pants was undone. Wiskirchen's father insisted that she only display the top half of this provocative centerfold so as to avoid the near occasion of sin. This repression inspired her to write a sestina about this Don Johnson centerfold.
Panels 3 and 4 are devoted to Jack Nicholson and were worked on from 1986-1990. If the artist thought Harrison Ford pictures were hard to come by...Jack pictures proved rare indeed. Batman helped a bit, but she preferred photos of Jack that didn't involve large facial prosthetic devices. It's hard to appreciate the detail here, but these panels are composed of many small photos from newspapers and magazines. The intricacy rivals the mosaics in the world's most famous cathedrals.
Archeologists have found traces that indicate the Nicholson sections were assembled after two other tribute sections were dismantled. A few scattered photos of men in make-up and sailcloth seem to indicate that these sections were devoted to Duran Duran. When asked about this lost love for D2, Wiskirchen would neither confirm nor deny it. She smiled and left us with a cryptic phrase reminding us why she is the artist and we are merely the critics: "The reflex is an only child. He's waiting in the park."

Read about Julie's continued struggle to come to terms with her celebrity obsessions:
Harrison, you can go back to making bookshelves now.
When Celebrity Obsessions Attack! - Jack Nicholson
How to Throw a Celebrity Obsession Party

Debate the merits of this masterpiece. Add comment.

Ape Culture and all associated pages are
ŠApe Culture 1998-2007 and evermore.