A Day at the AVN Expo
Ape Culture goes to the Smut Convention
By Candy Claudine and Smokey Sugartrail
Coolia (porn name: Smokey Sugartrail):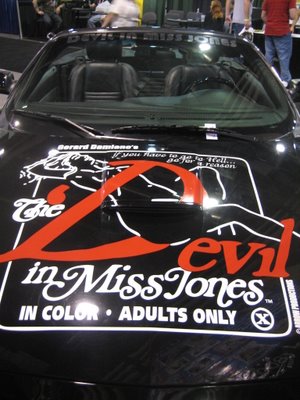 It was kinda like the auto show – lots of guys milling about, admiring the latest designs and engineering but unable to check under the hood. There were even a couple of cars there, styled after two classics of the genre: The Devil in Miss Jones and Deep Throat.
We weren't really sure what to expect at the AVN Adult Entertainment Expo, the largest annual convention and trade show for the adult industry. I thought I'd be amused and somewhat turned on. In reality, I was entertained, but I was also a little creeped out by the proliferation of digital cameras pointed at Olde Times Square type peep shows. Maybe I'm not as open-minded as I thought I was.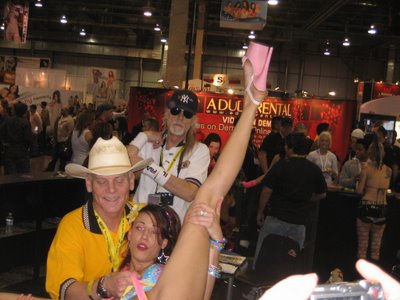 Max Hardcore and friend
Some booths were touting interesting products, like Fantasheets, bed sheets adorned with scantily clad chicks – you too can sleep with a porn star! Or Jingle Jugs – a pair of breasts mounted on a plaque that jiggle, kind of like those flapping fish gag gifts. That booth gave out some cool blinky boob necklaces – I'll be wearing mine at Burning Man. We saw the fleshlight, touted as the world's best selling sex toy – basically it's a masturbator that looks like a flashlight but when you unscrew the top, there's a vagina inside! This is pretty ingenious – combining guys' loves of jerking off and buying hardware. There was the Natch Snatch, which had something to do with non-toxic sex toys. Their slogan was "keep the tox out of your box." I laughed and said it aloud as we passed by, and the dude working the booth exclaimed, "You like that, don't you!" Co-reporter Candy Claudine interpreted that to mean he had thought up the slogan and was proud of it, maybe his coworkers didn't like it and he was glad to get a woman's approval. I heard it more like dirty talk uttered in a porno: "You like that, don't you, you filthy slut!"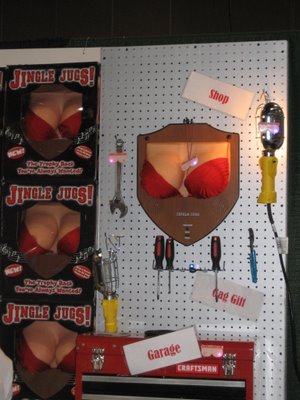 The bigger studios – Wicked Pictures, Hustler – had very impressive booths, packed with a bevy of their starlets who would pose for photos with the fans. Hustler showed some amusing previews for porn versions of The Brady Bunch (link to brady story) and The Partridge Family . The most elaborate booth belonged to Jules Jordan Video, and it was made to look like a maximum security prison emblazoned with the sign "Pornitentiary." Say what you will about porn, but there is no shortage of creativity when it comes to titling things to be titillating.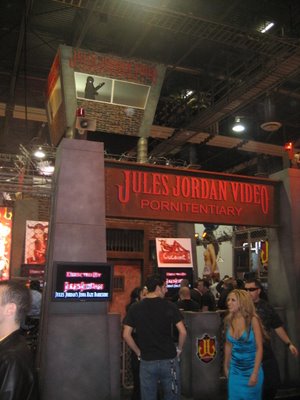 There was really only one booth that truly disturbed me. A girl who looked to be barely 20 lay on a bed, writhing in her underwear while a large mechanical arm with a dildo on the end of it appeared to penetrate her. It didn't actually poke her, because that would no doubt break some laws. Guys stood around snapping digital photos of this scene, and the girl had a totally vacant expression as she unconvincingly tried to act like she was turned on. I guess I just felt there was something cold and almost sci-fi about the apparatus, like it was something out of Demon Seed (a really odd 70s movie where Julie Christie gets impregnated by a computer). I prefer porn that's more sex-positive where the participants at least appear to be enjoying themselves.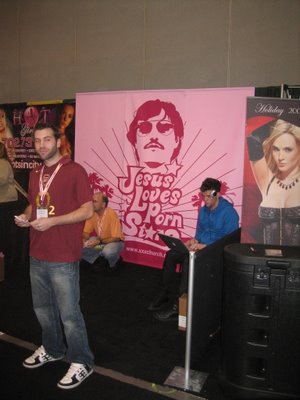 There was a small corridor devoted to gay porn – the GayVN expo. Some shirtless twinks stood around waiting to meet fans, but there weren't many gay guys there when we were there.
I was curious about the "Jesus Loves Porn Stars" booth but didn't approach, as I wasn't really in the mood to be preached at. The guy working the booth looked pretty lonely, and I doubt he made many converts. If you paid $80 to meet porn stars, chances are you're not going to give it up too easily, even for The Baby Jesus.
There were odd juxtapositions – like a laser teeth whitening booth near a bondage display. I wondered if attendees would tell their friends, "Dude, I had an awesome day. I met Tera Patrick, took pictures of a girl getting poked by a dildo machine, picked up a couple DVDs, and got my teeth whitened."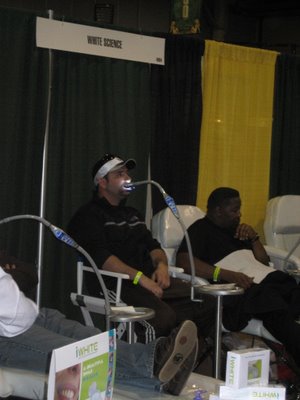 We didn't attend the AVN Awards, but while hanging out in Mandalay Bay's casino after the show ended, I saw Artie Lange and Dave Navarro who had been presenters at the event. I wanted to talk to Artie – my favorite Howard Stern cast member – but he had a porn star on each arm and looked like he was just intent on getting to the after-party. While gambling and watching the passing parade, my friend and I invented a new game: "Guess who's a porn star and who's just dressed slutty." On a Saturday night at Mandalay, it was really hard to distinguish.
Candy Claudine
Like Coolia, I wasn't nearly as titillated by this exxxpo as I imagined I would be. First of all, the process of driving around long Las Vegas blocks to find the Sands Expo Center's parking lot, walking the two -point-something miles through the casino and around the convention center, mostly looking for the hidden-away press booth, tired me out. Plus, the expo was packed with slutty girls, porn practioneers and normal gals like us. It was hard to walk around from booth to booth. The expo was an odd mix itself because it attracted both feminist porn advocates like us and creepy man-sluts who we liked not so much.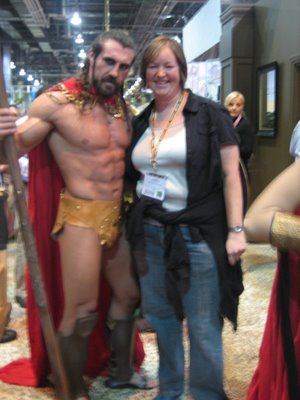 Highlights included talking to the natch snatch booth guy, convincing Coolia to get her photo taken with the bodacious porn star of a Herculean porn movie called The Four, and watching clips of The Brady Bunch porn parody . I was also impressed by the production and display for Wicked Pictures. Lot of soft focus and airbrushing seemed involved like for department store fragrances. I kept expecting Elizabeth Taylor to pop in. I also appreciated how the female stars came out to meet the geeky male fans…although sometimes only for a fee. Everyone at the convention seemed friendly and down-to-earth.
Lowlights included Matt Zane's masochistic pictures of bodies hanging on hooks. So not turned on by that. The cyber woman exhibit was very creepy too, especially the half mannequin lying on her stomach. She had no face and looked dead. Fantasizing about victimized or lifeless women is so not cool. I was also disappointed by the lack of sex toys but then again this was more of a B2B convention than one for the average Joe and Jane jack-off-ers like us. The tag line was "It's Sexy It's Powerful It's business!" which kind of sucks as a tag line. We also missed all the seminars which only ran through Friday, the day before we showed up: we missed the open law forum and a seminar called "what women want" (which signals to me that women buying porn is a burgeoning market for video and toy makers).
For more information: www.AdultEntertainmentExpo.com
Been to the AVN Expo or Awards? Share your tales.
Ape Culture and all associated pages are
©Ape Culture 1998-2007 and evermore.