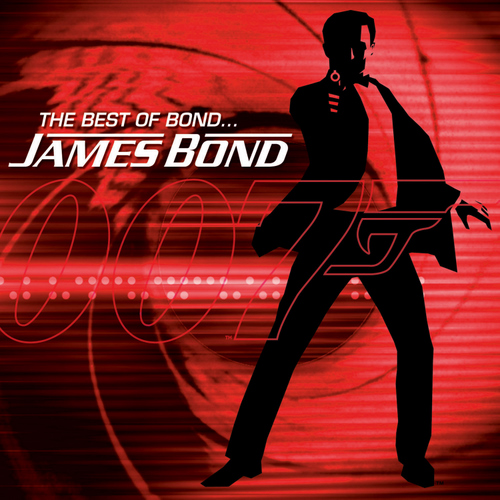 A new James Bond film must be coming out soon.
You can always tell a new release is imminent when EMI issues an album called
The Best of Bond... James Bond
. It's a compilation album of movie themes they have been releasing for years. My first exposure to this sort of collection occurred in 1987, when I heard a cassette that a friend's father owned. That album only went up to 1981's
For Your Eyes Only
, but (as a bonus) included "Bond '77" from
The Spy Who Loved Me
soundtrack. 21 years after hearing that album, I got to hear EMI's latest iteration covering all of the Bond films up until 2006's
Casino Royale
.
This new disc doesn't have "Bond '77" but instead has a bonus track all of its own. It was advertised as "a previously unreleased" version of the James Bond Theme by John Arnold, and I was anxious to find out what this was. Could it have been a typo? Composer David Arnold has scored the last five Bond movies starting with
Tomorrow Never Dies
. Maybe they meant "David" and not "John". However, composer John Altman was brought in to score the tank chase for
GoldenEye
and that cue has never been released and all of his music was based on the James Bond theme. Maybe someone got confused and typed "Arnold" instead of "Altman". Sadly, it seems this cue really is by someone named Arnold... John Arnold (and his Casio keyboard). This is a bonus track that was better left previously unreleased.
The rest of the album is made up of all of the title songs from the James Bond series. There are some issues with these tracks. "The James Bond Theme" which opens the album is presented here monophonically, as it has always been on this compilation. However, this iconic track was recorded in stereo and can be heard that way on the
Dr. No
soundtrack album, released by EMI.
You Only Live Twice
has the left channel drop out briefly around the 2:15 mark. This is on all versions of the song, so it's probably in the master. "GoldenEye", performed by Tina Turner, is a shorter edit of the song with a tacked on ending also heard in the film. The song on the original album runs 4:48, while here it lasts only 3:30.

On Her Majesty's Secret Service
and
Tomorrow Never Dies
are both represented by two tracks each. The 1969 film has the exciting orchestral main title as well as Louis Armstrong's final recorded song "We Have All The Time in the World".
Tomorrow Never Dies
features Sheryl Crow's title song as well as k.d. lang's performance of "Surrender" which was intended to be the title song.
Finally, the inclusion of "You Know My Name" from
Casino Royale
is nice. The original album for that film did not include the song (it was not on singer Chris Cornell's label) and was previously only available on CD on a Cornell album. The mix here is different than the one on his album, sounding closer to the film mix which has a greater emphasis on the brass.
This set also now includes a bonus DVD of several music videos, including
Duran Duran
's for "A View To A Kill." My review sample didn't include this disc, and I didn't miss it.
As for a recommendation, if all you want are all of the Bond songs, this is as complete a set as you can find (until Bond 23 is released and EMI includes the title song to
Quantum of Solace
on its next compilation). If you want something else, perhaps you should seek out
the 1992 compilation EMI made for the 30th anniversary
. It only goes up to
Licence to Kill
, but it was a two-disc set featuring some rare recordings that have not been released anywhere else, including two versions of a rejected Bond song called "Mr. Kiss Kiss Bang Bang" written for
Thunderball
, performed by Dionne Warwick and Shirley Bassey. The compilation album EMI released in 2002 (which went up to
The World Is Not Enough
) included Parodi/Fair's recording of the Bond theme first heard in the
GoldenEye
trailer, and is much better than John Arnold's rendition of the theme. I'd seek out those albums before getting this one. The only issue with the 2002 album is that it isn't in chronological order, but in this day of iPod playlists that shouldn't be an issue.
Oh, and the 2002 album is $12 cheaper at Amazon.
That's the one to get.